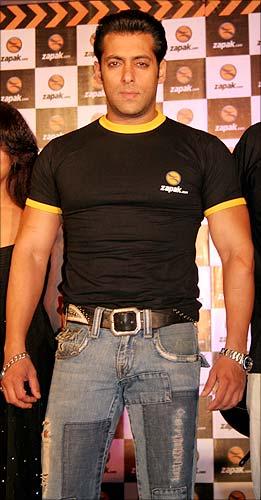 On Saturday, November 25, Salman Khan seemed to be in a pretty good mood. The actor met up with the media to launch a gaming portal called Zapak Digital entertainment in India.
"I have never been a gamer. I have played luddo, saap siddi and phugadi but never video games," he joked.
When asked if he was still a child, since he was endorsing games, Salman replied, "Yes, I am still a child." After a pause, he said, "Main sirf doodh nahin pita (Only, I don't drink milk)."
The game, incidentally, is based on Salman and the Puppy-Razzi, a spin on the paparazzi.
Puppy-Razzi, or the photographer, has to click Salman without being noticed. If he gets noticed, Salman's dogs My Jaan and My Son will catch the player, ending the game.
Speaking about Zapak.com, Salman said, "I will be working closely with Zapak team and develop more games in future."
Asked if the idea was his, Salman joked, "Zapak.com rejected all my ideas. But luckily, some corporate is touching me now because earlier, all corporates thought I am untouchable. When Zapak.com told me I am on, I happily came to sign the contract."
Salman was dropped as the brand ambassador of many labels after he had a car accident in 2002, which killed a pavement dweller.
Text: Syed Firdaus Ashraf | Photograph: Pradeep Bandekar