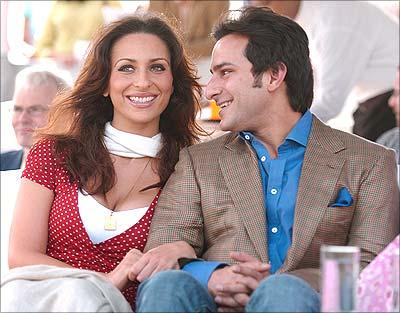 Dispelling rumours of a troubled relationship, Saif Ali Khan and his Italian girlfriend Rosa seemed blissfully happy in each other's company at the Bhopal Pataudi Polo Trophy 2006 at the Jaipur Polo Ground in New Delhi on Sunday.
Tabloids recently went into overdrive speculating a break-up when Rosa returned without Saif from the sets of his film, Tara Rum Pum, in New York.
Tara Rum Pum will see Saif opposite his Hum Tum co-star Rani Mukerji. It is directed by Siddharth Anand (Salaam Namaste).
The Bhopal Pataudi Polo Trophy event is organised by Saif's family; his father Mansur Ali Khan 'Tiger' Pataudi, argubly the most charismatic cricket captain India has had, was also present at the event.
Photograph: Getty Images