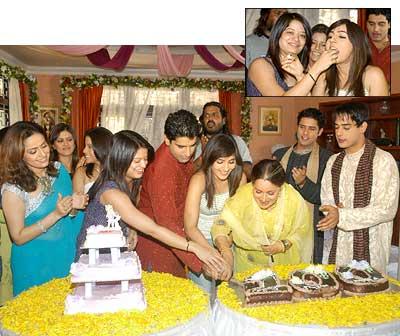 Sony's popular prime time daily soap Ek Ladki Anjaani Si celebrated its 100th episode this week in style. The serial tells the story of 18-year old Ananya (Kanchi Kaul) who becomes pregnant after a medical blunder. The incident changes her life and that of the accidental father Nikhil (Shakti Anand) – whose sperm has been injected into her body by mistake.
The on-the-set celebrations found the whole unit in a relaxed mood. Two huge cakes were cut -- both in the shape of the number 100. The entire crew -- including Vishal Singh, Hassan Jaydi, Himani Shivpuri and Arzoo Gowatrikar -- was present at Dinesh Bunglow in suburban Mumbai. Best of all, the happiness was evident in the casual clothes everyone was wearing.
Asked

about her first venture on TV, Kanchi said, "I am extremely happy about the way it has performed. The credit goes to the scriptwriting team. Although I pray nobody faces the situation I do in the serial, I am enjoying the role a lot."
The stunning Kashmiri beauty gives us an example of how good the off-screen chemistry in the unit is. "Believe it or not, Arzoo and I share the same make-up van. Where else would you find such a level of understanding?"
Now, the serial takes a new turn. Both lead characters will find out that Ananya is carrying Nikhil's child. To know what happens next, watch Ek Ladki Anjaani Si on Sony at 8.30 pm, Monday through Thursday.

Text: Srabanti Chakrabarti