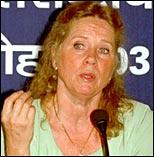 Having ruled the screen for over five decades, celebrated Norwegian actress Liv Ullmann has now decided to concentrate on direction; acting, she says, doesn't inspire her anymore.
"I now find directing films much more interesting as I am tired of looking at my face on the screen and judging how I have performed," Ullmann, who was conferred the Lifetime Achievement Award by the government of India earlier this week, said.
Ulmann, who began acting in the early fifties, turned to direction in the 1990s and did stage plays as well as films for both the big screen and television.
She said legendary Swedish filmmaker Ingmar Bergman had a big influence on her career; she has worked in 11 of his films and directed two films scripted by him.
"He taught me respect, professionalism and how to be a good storyteller," she said of Bergman, her mentor and companion for many years.
Ullmann, who grew up in Japan, Canada, New York and Oslo debuted in theatre in the mid-1950s. She soon turned to the big screen and worked in such famous Bergman films as En Passion and Ansikte Mot Ansikte before making her international foray with Abdication.
Expressing disgust at the kind of violent films being churned out both by Hollywood and Bollywood, Ullmann said she wants to make movies on women and the elderly.
| | |
| --- | --- |
| | Also Read |
| | |
"When people see a movie, they should be able to identify with the characters. Films should deal with family life and values," she said.

Her visit to India this time has helped her know its people better, she said. "First and foremost on my mind was the thought that I wanted to meet the people of India. I visited the Taj yesterday and, apart from getting to see the monument, the drive back and forth has given me visions and feelings about this country."

Her earlier visit to the country was as a goodwill ambassador for UNICEF.

Looking forward to her visit to Bollywood, Ullmann said she is impressed with the amount of Indian culture and tradition visible in the country's cinema.

"There is a lot of song and dance and, at times, it is far over the top. But there is so much of culture," she said.

Click here for More Features