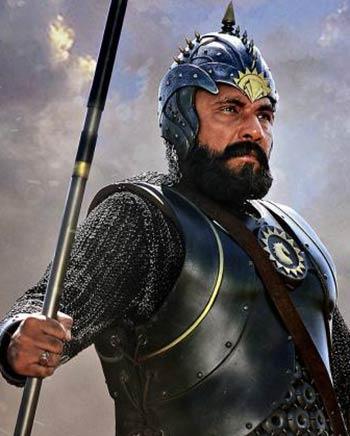 'It is not right to show your anger on this film for Satyaraj's comments.'
Director S S Rajamouli on Thursday, April 20, sought to distance himself and his Baahubali 2 team from comments allegedly made by actor Sathyaraj that have led to a protest against the film's release in Karnataka.
Rajamouli said Sathyaraj, who plays the role of Kattappa in the multi-lingual drama, made the alleged anti-Kannada comments during the Cauvery river row between Tamil Nadu and Karnataka about nine years ago.
Sathyaraj is from Tamil Nadu.
'The producer and I want to clarify on the issue... The comments must have pained some of you, but there is no connection with the movie. Those were (his) personal comments and were made some nine years ago,' the director said in a video message on his Twitter page.
The team was unaware of the actor's remarks till it saw a video on a social media site.
Rajamouli pointed out that many of Sathyaraj's films have been released since then, including the 2015 film, Baahubali.
'The way you accepted and appreciated Baahubali Part I, I request you to do the same for Part II... Sathyaraj is neither the director nor the producer of this movie. He is one of many artists associated with this film,' Rajamouli said.
'If you stall the release of the film, it may not affect him (Sathyaraj) that much. But it is not right to show your anger on this film for the comments made by him,' the director added.>/p>
Sathyaraj, he said, has been 'updated about the situation,' but beyond that the team could not do much.
'I request you not to involve us in this matter as it nowhere connected to us,' Rajamoli said.
Shobu Yarlagadda, the film's producer, expressed the hope that the issue would be resolved amicably.
'This is a very sensitive issue, and I don't want to comment much on it. The only thing I want to say is we will resolve the issue amicably in the interest of all concerned,' Yarlagadda said.
Many pro-Kannada organisations have threatened to launch an agitation against the film's release across Karnataka. They have demanded an apology from Sathyaraj for his reported remarks on the water dispute.
Vatal Nagaraj, president of the Kannada Chalavali Vatal Paksha, a pro-Kannada political party, said the group will not allow the movie to be released because of Sathyaraj's comments.
When asked why Sathyaraj's previous films were allowed to be screened in the state, he said they were waiting for the 'right' time.
'Other films of Sathyaraj which were released earlier here weren't worthy and noticeable. However, Baahubali is recognised both nationally and internationally. We were waiting for the right time,' he said.
Baahubali: The Conclusion, also starring Prabhas, Rana Daggubati, Tamannaah and Anushka Shetty, will be released on April 28 worldwide.