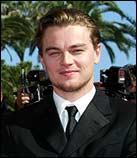 Bruce Willis, Leonardo DiCaprio and Elijah Wood will work in sin!
They are not the only stars. Hollywood Reporter mentions that Brittany Murphy, Mickey Rourke, Kate Bosworth and Jaime King are also being roped in for Robert Rodriguez's (Once Upon A Time In Mexico) new film, Sin City.
Presented by Dimension Films, it is an adaptation of Frank Miller's novel series. Set in a fictional corrupt town called Sin City, the film has three episodes that crisscross around the 'dark set of characters'.
Also expected to join in this galaxy of stars are Oscar-winner Benicio Del Toro (Traffic) and Maria Bello.
Click here for More Features