Compared to summer behemoths like Superman Returns and Pirates of the Caribbean: Dead Man's Chest, M Night Shyamalan's seventh movie Lady in the Water looks like a dinghy.
But if his stars hold good, the dark, adult fable could become his fifth consecutive No 1 opener, and torpedo the current Johnny Depp juggernaut Dead Man's Chest, which enters its third week on Friday.
That would give Shyamalan a big kick. The director left Disney, which produced his last five films and saw them gross $2.5 billion worldwide (including DVD sales and other ancillary income).
When the mouse house said it did not like his new script, the 35-year-old filmmaker walked out, taking his script to Warner Bros.
The Shyamalan version of the dispute is chronicled in Michael Bamberg's biography The Man Who Heard Voices, Or, How M Night Shyamalan Risked His Career on a Fairy Tale, which is being released to coincide with the film's release on July 23.
Shyamalan's new film started as a fairytale conjured up for his two daughters some three years ago, which then became an illustrated children's book, Lady in the Water.
The dark fantasy of his film is a very different, and far more complicated story. Interestingly, it also has plenty of comic touches -- especially involving Sarita Choudhury as the nagging sister of a visionary writer (Shyamalan) -- that were absent in his last four films.
Whether Shyamalan makes his films with stars (Mel Gibson, Signs) or relative newcomers (Bryce Dallas Howard, The Village), he keeps his budget at about $60 million. That means even if his film were to gross $250 million worldwide (like The Village), it would still fetch the studio an impressive profit.
As against that, Superman Returns, which is headed for an impressive $400 million worldwide, struggles for true commercial success, since its making is estimated to have cost around $260 million.
Shyamalan gets high marks in Hollywood for his conservative fiscal approach and for his ability to convince stars earning $20 million per film -- such as Gibson -- to work in his films for a far smaller amount while assuring them a percentage of the film's gross. Gibson reportedly made about $50 million from Signs, in addition to his small but not insignificant remuneration.
The new film revolves around Cleveland Heep (the Oscar-nominated Paul Giamatti), a troubled man who been trying to forget his past while working as a super of an apartment complex. On the night that irrevocably changes his life, he encounters a mysterious young woman, Story (Bryce Dallas Howard, returning to the Shyamalan fold after The Village), who has been hiding in the passageways beneath the building's swimming pool.
Cleveland discovers that Story is actually a 'narf' -- a nymph-like character from an epic bedtime story -- who is being stalked by vicious creatures determined to prevent her from making the journey from our world back to hers.
Though a father-daughter bond develops between the two, Cleveland recognizes her need to get back to her own world. But she cannot do it, unless the people in the building complex can distract her treacherous foes.
Story knows that her allies in the building must work together to decipher a series of codes that will unlock the pathway to her freedom. In the process, there are several self-discoveries to be made, and the central characters have to realise their hidden potential.
Shyamalan, who considers himself an old-fashioned storyteller, sees himself more than a mere entertainer.
'My movies are an expression of who I am and where I am emotionally,' he says in the production notes of the movie. 'Each film has its questions that I'm wrestling with at that time. I believe in being honest with the audience, so I try to talk honestly about the things I'm dealing with in the context of a fictional story that everyone can enjoy.'
Bryce Dallas Howard, whose father the veteran Ron Howard directed the mega hit The Da Vinci Code recently, considers Shyamalan one of Hollywood's gutsiest.
'Night is not afraid of anything in his work, and I think that's why people are so drawn to his films,' says Bryce Howard, who received international acclaim for her performance as the blind girl in The Village -- her first starring role in a feature film. 'Audiences know that they're going to see something that is inherently fearless.
'I think the reason we tell bedtime stories is to remind us that we're a part of a story ourselves,' Howard muses. 'We're part of something that is grander, and even though at times it can be chaotic, there is an ultimate plan.'
The PG-13 film seeks to bring out the childlike qualities in the adults, the Shyamalan says. 'The problem with us when we grow up is that we forget that anything is possible,' the writer-director says. 'So the things that used to be possible had to become stories. And then we became so cynical that these stories had to become children's stories. So things that were once true are now disguised as children's stories.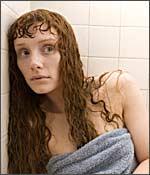 'In Lady In The Water, there is a whole ecosystem of creatures who exist right outside this apartment building. But the tenants have to go back centuries in their thinking to become like children again and believe anything is possible, so that they can connect with this other world that coexists with theirs.'
His films challenge the audience look beyond the mundane, Shyamalan says. He wants them to pay attention to faith, and examine one's purpose in life. The fairlytales he tells his 'cookies' (as he calls his daughters) are imbued with inspiration and wisdom, he believes.
Making films that entertain and inspire is the right course for him. 'Whenever I veer off the course of doing what I'm supposed to be doing, I'm really unhappy. When I see people who are not glowing, who do not have that glowing feeling you recognise in people who inspire you, it's because they are not doing what they're supposed to be doing. They haven't found their purpose.'
Speaking of his hopes for the first movie he is producing for Warner Bros, Shyamalan says `When people come out of this movie, I hope they feel a sense of hope for themselves and for others; hope that everybody finds their purpose and we'll all be able to do what we're supposed to do on this planet.'