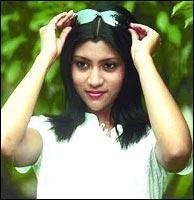 My, how the arrogant adolescent has grown. From playing a hard-to-like character in Rituparno Ghosh's 2002 Titli, actress Konkona Sensharma sure has come a long way. It goes without saying that filmmaker Aparna Sen's talented daughter has made quite an impression on Indian cinema. After her work in Shonali Bose's Amu and Madhur Bhandarkar's Page 3, she is finally being taken seriously as a mature performer.
In an informal conversation with Indrani Roy Mitra, the actress speaks about her forthcoming films, her passion for theatre and why she thinks 15 Park Avenue is her mother's best script so far.
Page 3 won a National Award for best Hindi film, with your performance garnering critical acclaim. Has it spelt any change for you?
Not really. It always feels nice to be acknowledged for your work, of course, but it doesn't necessarily turn your life upside down. Working with Madhur (Bhandarkar) in Page 3 was a wonderful experience. And seeing it win a National Award felt even better. The only discernible difference the film has made is it has made film industry people more aware of me. People have started taking me seriously, perhaps, as an actress. I would be lying if I say I don't like that.
| | |
| --- | --- |
| | More on rediff.com ! |
| | |
It is rumoured that Vishal Bharadwaj has approached you for a role in his new version of Othello...
He did, for the role of Emilia, the wife of the villainous Iago. But I haven't read the script yet and am therefore not sure about doing it. Though I was impressed by Bharadwaj's earlier film Maqbool (an adaptation of Macbeth made in 2003), I need to understand the role he has outlined for me thoroughly before signing on the dotted line.
Now that you have become a regular in Bollywood, what's your take on it?
It is very interesting to note that Bollywood is coming up with so many different types of films. If films like Veer-Zaara are being made, there are lots like Page 3 and Maqbool also wowing audiences. As an actress, this diversity fascinates me.
Has too much involvement with the film industry told upon your passion for its poorer cousin, theatre?
Yes, it has. I am too busy these days. However, avid theatre person that I am, I manage to squeeze some time out to keep my passion alive. I breathed a breath of relief when I got a chance to act in the play Chhatis Ghante, at (Mumbai's) Prithvi Theatre Festival.
Has your penchant for theatre taught you to be an intense actress? What is your performance like in the upcoming 15 Park Avenue?
Theatre has taught me a lot as far as acting is concerned. Glamour of films, awards and acknowledgements apart, it has continued being my favourite genre all these years. Talking about 15 Park Avenue, the film is built out of a piece of our (me and my mother's) hearts. It is, perhaps, my mother's best script. I play a schizophrenic woman and I enjoyed every bit of it. I felt privileged to share screen space with veteran Waheeda Rehman. She was so much fun to be around with. Be it acting or socialising, she effuses a spontaneous charm that will make you fall for her immediately.
Tell us about the homework that went into the film's making.
As is usual with Ma's films, the entire crew took part in a workshop conducted by (theatre personality) Sohag Sen. Also, to understand the psyche of a schizophrenic, we used to have regular sessions with a psychiatrist in Kolkata. For authenticity, we also spoke to friends and relatives of schizophrenics at length and studied their reactions.
Other films are on the anvil?
I recently acted in a black-and-white film called Dosor by Rituparno Ghosh with Prosenjit Chatterjee. It has infidelity as the plot and was an interesting project that I finished in just two weeks. I have also played parts in Rajat Kapoor's Mixed Doubles, Naseeruddin Shah's Yun Hota To Kya Hota and Tanveer Khan's thriller, Deadline. Some of these roles are diametrically opposite to each other. Each character I played has something unique in it, offering me a challenge, helping me grow. I look forward to their releases.
Do you have a favourite Bollywood film?
I loved Bunty Aur Babli! It's one of the best films I've seen this year. I love the idea and the way Abhishek (Bachchan) has acted in it!