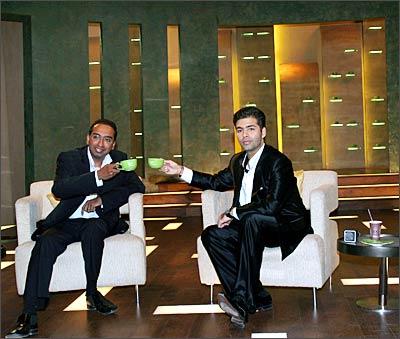 Karan Johar is back, and as the self-confessed gossip hound readies for a new season of Koffee With Karan, the Mumbai press was invited to check out the host in his new surroundings, talking about season 2.
To be cast on Star World and Star One simultaneously, the show is on Sunday nights at 9, starting February 11.
Star TV COO Sameer Nair filled the chair next to Karan's, laughing about how the show came to be. "We went to hire an anchor, and ended up getting a producer, director, set designer, guest coordinator, writer and stylist."
"Yes, I'm overworked and underpaid," retorted Johar.
About season 2, Johar wants to dispel rumours of 'difference.' "There isn't any! We didn't want to change what worked so well. We've developed a chatty, catty conversational manner and we want that comfort level to stay."
The director then rattled off an enviable guest list -- Sanjay and Priya Dutt, Saif and Soha Ali Khan, John Abraham and Bipasha Basu, Kareena and Shahid Kapoor, Mira Nair and Tabu, Vijay Mallya and Shobha De, and Sholay ladies Hema Malini and Jaya Bachchan. Outside of this lot, the show kicks off with a return to Kuch Kuch Hota Hai episode with Shah Rukh Khan, Kajol and Rani Mukerji.
And then there are the special episodes. Karan's filmed a one-on-one episode with Richard Gere, but the biggest expectations are from a show he shot just last night. "She was last year's unofficial brand ambassador for the show, and was the star of the season without even coming on. So this time we have Mallika Sherawat on the show, and it's explosive." The actress was accompanied by director Sanjay Leela Bhansali, and Karan assures us they shared great, energetic chemistry.
Karan described the new set, designed by Sharmistha Roy, as "like an American loft, in Greenwich Village or Soho in New York." If so, it's a startlingly clean loft. He also drew attention to the fact that there are slits in the walls for the cameras, so they aren't really visible when the episodes are filmed -- letting the celebs breathe in relatively lens-free air makes them more at ease.
Johar, who has also turned dress designer for Shah Rukh Khan's KBC ("I went up to Star and asked for the job") met the actor just the other day. "It's amazing that both of us film folks were driving to different studios to shoot two shows -- but for the same channel." His friendship with King Khan is the stuff of legend, and Karan candidly revealed that "Shah Rukh is the only person whose counsel I seek. And that's who I went to when I first decided to do season one."
The show's tagline now is 'love me, hate me, but you can't ignore me,' prompting a journalist to ask who Karan thinks hates him. "Oh, I am hated. Plenty of people don't like me, or the kind of films I make. People who make gritty thrillers don't like my films," Karan winked. A question about Ram Gopal Varma follows, and Johar is quick to say he'd love to have Ramu on the show. "We should do a one-on-one. I bet we have a lot to talk about."
"The great advantage for me as a host is that these stars pick up my calls and reply to my messages, and it wouldn't be that easy for any other host," admitted Karan. And what's the difficult part? "Well, it's difficult sitting with friends in a semi-formal sitting and asking them questions where you know the answers, and trying not to act too surprised when they're lying," he laughs. "Sometimes it can be an eye-opener, though."
Does he expect his conversations to be stimulating? "No, they're not stimulating at all. They're not meant to be. We want them to be fun, flippant and frivolous. We expect you to turn in on a Sunday night, wanting something light and refreshing." So isn't doing the show largely with celebrity friends restricting? "Yes, I am restricting myself, but then that what I do with my movies too."
The rest of the queries were about possible guests. Aditya Chopra? "You wouldn't even know what he looks like! No, we're best friends and I wouldn't want to intrude on his privacy." Sourav Ganguly? "We have spoken about it and he'd love to, but the World Cup dates clash with our shooting schedule and for India's sake, I hope he doesn't make it back early." Salman Khan? "Oh, I'll ask him and ask him and ask him, and finally I'll plead, but it would be great to have Sallu up here, with his family, Sohail and Arbaaz."
The question was just impossible to resist. Given the current media frenzy, what about getting Aishwarya Rai and Abhishek Bachchan? Aren't they the most talked about couple? "Yes," Karan laughs. "Maybe they're too talked about to be on the show."
Touche, talkshow man.
Text: Raja Sen | Photograph: Pradeep Bandekar