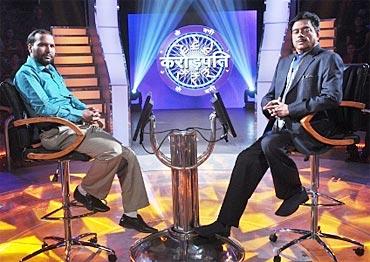 Ke Bani Crorepati -- the Bhojpuri version of the hit game show Kaun Bahega Crorepati that airs on Mahuaa TV -- got its first winner in 34-year-old Rajesh Singh.

Singh, who hails from the Kushinagar district in Uttar Pradesh, will take home the prize money of Rs 1 crore, becoming the first person to win such a huge amount of money on a regional show.

Delighted with his win, he said he will use the money for his children's education. He

will also build a house for himself, and for his aunt.

He plans to open a counseling institute as well, to help youth chose the right career.

Ke Bani Crorepati host Shatrughan Sinha was all praise for Singh, as he said, "This proves that if people from small towns are given opportunities, they can prove their merit, and Rajesh was the perfect example. He was given a chance to play this game, whatever his aspirations, or his knowledge were, it tested them and won the game. I congratulate him for the win. He has become an example for all the people in rural India."