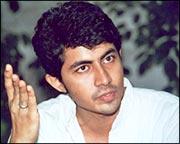 Karthik's first lead role arrived with P C Sreeram's Vaanam Vasapadum, which was also the first digitally made film in India. His latest release is Priya's Kanda Naal Muthal. The long gap is only because Karthik's passion lies not in acting alone, but in cinema as a whole, as well as in theatre. Evam, an English theatre group started by him and his friend Sunil, brings in youngsters to watch plays in Chennai.
On the eve of the release of Kanda Naal Muthal, this 28-year old engineer with an MBA degree from MICA talks about what drives him…
You did your engineering, then went on to an MBA. Now, you are a full-fledged theatre person. Did it take you that long to realise your passion for theatre and cinema?
Not at all. Throughout the four years of my engineering degree, from 6 pm to 10.30 pm, I used to be either at theatre rehearsals, ad film productions or film productions. I did short films and about 25 plays at the time. I was trying to understand cinema because I loved it.
If you loved cinema so much, why engineering and an MBA?
I think it is a very important safety net. I should be able to have a livelihood, and for me my MBA was to understand how to run a business. Tomorrow, if I were to run a production house the way Mani Sir (Mani Ratnam) does, I should be able to do it professionally. Having a production house of your own is the greatest autonomy you can enjoy in this industry. You can produce your own cinema and deliver it without any interference. People like Ram Gopal Varma and Mani Sir enjoy that autonomy.
After I went to MICA, I learnt how to run an organisation, how to run a business. Even today, I am learning. While at MICA, we started our own student theatre outfit, and ran it for two years under Mallika Sarabhai's theatre space. A professional background gives you the confidence to do ten things. Like Prakash (Raj) who handles the roles of producer and actor. Tomorrow, he will take on the role of director too. Mani Sir also handles the roles of producer and director.
Did you start your theatre group Evam immediately after your studies?
No, my theatre partner Sunil and I took up corporate jobs for two years only because we had invested about Rs 4 lakhs in our education. We wanted to get that money back and give it to our parents. So, we started Evam on a blank slate when we reached the age of 25, around two and a half years ago.
Now, we have moved beyond Chennai. We put up our plays in Bangalore, Mumbai, Hyderabad, Coimbatore and Colombo. Ours is a youngsters-driven outfit. At any point in time, we have at least 30 youngsters in our productions. They are learning everything, right from running a business to sweeping the stage to acting.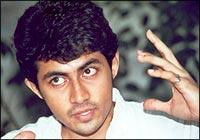 Where exactly is English theatre in Chennai? Unlike in Mumbai, I think yours is the only active theatre group other than the Madras players.
I will give you an example. When we started two years ago, our first play was watched by 700 people. My last play three months ago had a cumulative audience of 8500. We started off with 3-4 shows. Today, we do 14-15 shows. Our current play has done 12 shows in Chennai alone.
Chennai now has a floating population, and there is a need among them for English theatre. It's a metro phenomenon. That is why multiplex cinema is flourishing. The future is pan Indian cinema, whether it is Madras Talkies, RGV or some Delhi production house making it, Indian English cinema will have a market. Similarly, English theatre in India is also growing. There is a whole new generation of people who want it.
In Mumbai, actors like Naseeruddin Shah and Om Puri are going back to theatre to satisfy the actor in them…
Naseer is a much abused actor. He had to do crass commercial films because there were not enough filmmakers beyond Shyam Benegal or Govind Nihalani to appreciate that kind of actor. Whereas in the last decade or so, Om Puri has been much appreciated and the range of roles he has done is truly amazing. He gets East is East from a British production house to play a Pakistani -- that is a globalisation phenomenon.
That is why, for Naseer, theatre is pure passion because that is where he expresses himself fully. He does not do theatre for money. My perspective is, theatre is a viable art form. It is also a viable business. We are in the process of making it popular.
Once Evam starts making films, will you abandon theatre?
No. Between Sunil and I, we have favourites. If cinema is my passion, theatre is his. I have grown up watching cinema, he has grown up watching theatre. We love telling stories. If there is a story that can be told only on stage, it will be meant for stage.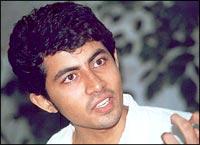 Have you set any goals for Evam?
We want to solidify our theatre presence and involve more and more youngsters. I want Evam as a forum for youngsters to learn everything. It is for 18-25-year olds. I would say Sunil and I are too old for Evam.
Is theatre a good business proposition?
It is increasingly becoming one. And it is our duty to make it a good business proposition. It is nonsense to say that theatre is a poor man's art. You can't run something on passion alone. Cinema watching is a habit, theatre watching is not. We are trying to change that by making what we call popular theatre: fun, comedies, thrillers -- nothing serious. I would do a Woody Allen, a Neil Simon. We are doing a thriller that had Michael Caine and Lawrence Olivier.
What is the response of the film fraternity to Evam like?
People like P C Sreeram or Mani Ratnam or Prakash Raj are able to understand that theatre is a fantastic training ground. Look at a film like Maqbool with all theatre-trained artistes in it, and see the effect. A lot of youngsters who work with us are moving on to cinema not as an upward step but as a side step! Filmmakers like Mani Ratnam and Prakash take youngsters from Evam when they make films.
When will you be moving to film production?
I have written our first movie script and, in the next six months, hope I can give you the good news that Evam is making a film! It will be an Indian English film. Evam will not be producing it, we will only be executive producers. We don't have the money to produce a film.
You have done a small role in Alai Payuthe, the lead in P C Sreeram's Vanam Vasapadum, and now Kanda Naal Muthal. Do you act in films for the money?
Not at all. After Vanam Vasapadum, I got a lot of offers as a commercial hero but I can never be a commercial film hero. I don't want to be an actor for bread and butter. Acting is only a learning process for me.
**
Photo: Sreeram Selvaraj