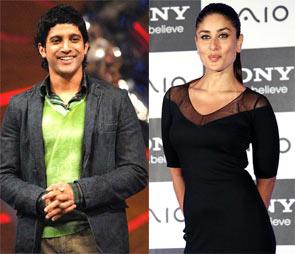 After her social activist role in the poorly-received film Gori Tere Pyaar Mein, Kareena Kapoor will move on to Dev Benegal's Bombay Samurai, opposite Farhan Akhtar.

According to sources, the film is, 'a crazy, zany roller coaster ride with amazing twists and turns. There are seven-eight pivotal characters but Kareena and Farhan preside over the show."

A filmmaker who has been lamenting Kareena's recent choice of roles says, "It's good she's working with a man like Farhan Akhtar after doing two films with a boy like Imran Khan. When the pair obviously didn't work in Ek Main Aur Ek Tu, why did Karan Johar cast them again together in Gori Tere Pyaar Mein?
And then both films had dialogues justifying their age difference! Why cast them together when you know the hero looks younger than the leading lady?"
Both Kareena and Farhan were keen to work with one another.
Says Farhan, "I've seen Kareena's work. She is consistently excellent. I was keen to work with her. Dev's film gives us a chance to try something different."
Kareena expresses the highest admiration for Farhan, "I admire Farhan for being multi-talented. Which other director has done so well as an actor? Farhan took my breath away in
Bhaag Milkha Bhaag.
I am really looking forward to working with him."
The Farhan-Kareena film will start after Kareena's annual holiday in Switzerland in December.
"It's an annual ritual that the whole world knows about," laughs Kareena.