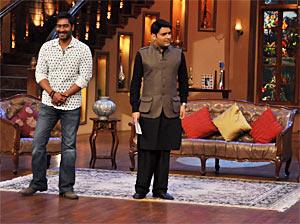 A devastating fire at Mumbai's Film City completely destroyed the elaborate sets for the very popular comedy television show Comedy Nights With Kapil.

While the cause for the fire is still to be ascertained, initial information suggests an electrical short-circuit.

"I was in Kolkata for a show on Tuesday," says Kapil Sharma. "I was supposed to report for shooting for Comedy Nights With Kapil at noon on Wednesday. I decided to drive straight from the airport to the sets to avoid delay."

He learnt of the fire on the way to the studio. "When I reached the studio, I saw that the set was completely destroyed."

Luckily, the episodes for the coming weekend have already been shot.

Next week onwards, only one episode will be aired per week, as Kapil's show will have to share the weekends with Anil Kapoor's 24.

"We will be on air only once a week from next week but the entire set has to be reconstructed at another location. The fire-affected set cannot be used," he says.

Kapil has taken the setback well. "We will work harder and will make sure we don't miss a single episode."
In the picture: Ajay Devgn and Kapil Sharma on the sets of Comedy Nights.