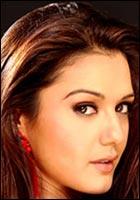 Bombay Jen and her friend Paul Meidinger were insistent. I had to go with them to the lobby bar of a hotel in midtown Manhattan to watch the stars of Karan Johar's Kabhi Alvida Na Kehna.
They had heard from an Indian photographer that the stars hung out at the bar after the day's shoot. The photographer had told them it would be easy to see the stars late in the evening.
Jen and Meidinger are two white Americans, Bollywood fanatics who have driven two times in the past two weeks all the way from the western edge of Pennsylvania to New York City -- roughly a 1,300 km round-trip journey -- to act as extras in Johar's film and to be in the presence of their beloved stars.
I tried to talk them out of going to the bar. I am a respectable journalist, I said. I interview movie stars, directors and other film personalities. I do not stalk them late in the evening, I pleaded.
But Jen and Meidinger would have none of that. To make matters worse, they also convinced an American friend of mine -- photographer Preston Merchant -- to come along with us. Merchant has spent a substantial time in India and other parts of the world photographing the Indian Diaspora. And he too is a huge Bollywood fan.
Exclusive! Preity Zinta on KANK
Jen made me promise I would not mention the name of the hotel where the stars of KANK were staying. "Nobody knows the hotel," she said to me. "Really," I asked, because I thought everybody knew the hotel. All Indian film personalities stay there. I have interviewed everyone from Subhash Ghai to Deepa Mehta there. And just two weeks ago I saw Arjun Rampal standing outside the hotel in the middle of the afternoon as heavy rain fell on the streets of Manhattan.
But maybe Jen was right. So, to respect the privacy of the stars, I will not mention the name of the hotel.
It was a cold rainy night. We got to the lobby of the hotel around 10 pm. On the television, the Houston Astros were loosing to the Chicago White Sox in the third game of the baseball World Series. The bar was crowded with guests of the hotel. But there were no Bollywood stars.
We ordered drinks and settled in a relatively quieter section of the bar. Jen started sharing her experiences of being an extra on KANK.
She has a strong connection of the soul with Abhishek Bachchan, she said. A day earlier, during a lull moment in the shoot, she had walked up to Bachchan Junior and given him material about her guru Sri Ganapati Sachchidananda. The young actor was gracious and he took the material from her.
She gave her business card to Johar as he walked past her with food in his mouth. And she bowed with her hands folded, as she suddenly faced Shah Rukh Khan. The superstar had returned the greeting with a bow, Jen said.
She also chatted with Rani Mukerji's and Khan's bodyguards. Because of their appearances, she referred to them as Ben Affleck and Iceman (after the Val Kilmer character in Tony Scott's Top Gun).
Our East European waitress told us that the Rampal was sitting in the bar a few days earlier. "But he is a married man," she said. "I am not interested in him. I want to meet the old man from Black [Amitabh Bachchan]." She could always tell when Khan entered the hotel lobby. "I can tell when I hear young girls screaming," she said.
"Oh my god, there is Karan Johar," Jen yelled out. The bar was loud and Johar did not hear her. But I jumped up to check out the director. Dressed in blue jeans and a light jacket, he stood by the door. He appeared to be talking to someone on the cell phone. And then he walked through the revolving doors and headed to the East Side of Manhattan.
Back in the bar, Meidinger and Jen offered to give us free readings. Meidinger is a psychic and an aura reader and Jen reads tarot cards. Soon I was engrossed in my psychic reading and Jen had the cards laid out as she was talking to Merchant.
"Shah Rukh Khan, Shah Rukh Khan," she suddenly yelled out excitedly, pulling Merchant and me out of the realm of spirits and auras and throwing us back into the reality of Bollywood.
Indeed, Khan was walking past the lobby, followed by his two kids, an entourage of nannies, and a man. There were no screaming young girls to welcome them. The star and his group stood looking out of the glass doors of the hotel. The rain had stopped.
Merchant and I leapt up. By this time Khan was standing on the sidewalk outside the hotel. Merchant and I stood by, pretending to be talking on our cell phones. It was a strange feeling. Khan was standing right beside me, and I acted cool -- as if I had no idea who he was.
Then, from the corner of my eye, I saw Khan put his cigarette between his lips as he bent down to zip up his daughter's pink jacket. It was a touching moment. The human face of Bollywood's most popular movie star -- Khan the real life father.
Soon Khan and his entourage walked past us, heading in the same direction as Johar. I looked up at Merchant, barely able to speak. My heart was beating fast and he told me that his knees were shaking. Although he had hoped to see his heartthrob Preity Zinta, Merchant had made eye contact with Khan and the actor had given him a weak smile.
We walked back into the hotel and right behind us an SUV pulled up. The tall lanky Abhishek Bachchan stepped out of the vehicle. Dressed in jeans and a long leather jacket, with fur coming out of the collar and his sleeves, Bachchan walked through the lobby and headed to the elevators.
Jen could not contain her excitement, but she did not walk up to Abhishek. She did not want to come across like a hysterical stalker. Instead, she grabbed my arm and kept repeating Bachchan's name until the actor was out of our sight.
Ten minutes later, Abhishek was back in the lobby -- this time with just a t-shirt and jeans and a couple of young women and men walking behind him. Jen recognized them as the film's crew members. They considered stepping out, but the street looked real cold. So they headed to the hotel's restaurant.
Half an hour later, I was ready to go home. I decided to stop by the restroom before we left the hotel. But my trip to the restroom was cut short as I nearly walked into Mukerji as she was coming out of the restaurant with Abhishek and their friends. All I remember of that moment was how short Mukerji looked in front of Abhishek and that she had glasses on. Maybe I also saw a smile on her face.
I walked back to my friends. I had enough of this exciting evening. Stalking Bollywood stars can be exhilarating. But I would much rather stick to interviewing them.