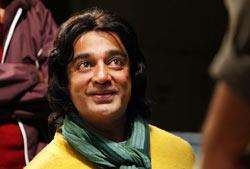 Due to pressure from film exhibitors, Kamal Haasan has been compelled to postpone the release of his Hindi-Tamil-Telugu tri-lingual Vishwaroopam. He has now slapped a notice on the exhibitors and complained to the Competition Commission Of India, who have slapped a fine of Rs 25 lakh on them.

The film is now likely to release on January 18.

Says the actor-director-producer, "It is not fair to do this. I've sued the exhibitors. I will not reveal their names because I know they will come around and then it won't look nice.
"I see the postponement as a blessing in disguise. Today, because of the way exhibitors have pressurised me, I'm being seen as the champion of a movement to take the movie-viewing experience forward with the DTH (Direct To Home) facility," he adds.

On Tuesday afternoon, exhibitors stormed into Kamal Haasan's office in Chennai demanding that he cancel the DTH screening of Vishwaroopam immediately. They want him to hear their side of the case.
Says Kamal, "Yes, they did come on Tuesday but I refused to allow the press into my office. I called another meeting with the exhibitors the next day. I told them I had postponed the release and that I had sued 13 people. I know they've been coerced by certain chains of mutiplexes into pressurising me to postpone."
Now, the exhibitors have agreed to sign an all-clear memorandum.
"I haven't given in to the exhibitors' demands," Haasan says. "Postponement has given me more breathing space, more theatres and hopefully, more eyeballs. Every practical problem has been taken care of."