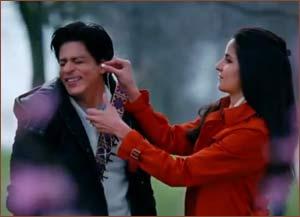 That Ajay Devgn is having a tussle with Yash Raj Films regarding the number of screens their films -- Son Of Sardaar and Jab Tak Hai Jaan -- are releasing in is well known. But what exactly is the theatre divide for the films in India? We find out:
The second most-anticipated movie from Yash Raj Films this year --
Jab Tak Hai Jaan 
-- will open on November 13 in 2,700-3,000 screens in India, of which 1,400-1,500 will be single screen theatres.
This is slightly less than YRF's last release,
Ek Tha Tiger
, which opened in 3,300 screens on August 15.
The studio would have wanted to give
JTHJ
the widest release but direct competition with Ajay Devgn's
Son Of Sardaar
on the same day has confined it to second-largest opening.
Meanwhile, in the international circuits,
JTHJ
will get the widest opening for any YRF film. It will open in 650 screens.
The Shah Rukh Khan starrer will see same day release in the US, UK, Canada and UAE, while in Australia, New Zealand and other markets, it will open on November 14. In Pakistan, however, the movie will be released on Friday, November 16.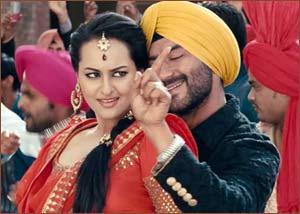 Earlier, Devgn, producer of SOS, had filed a complaint against YRF, alleging anti-competitive practices as the latter had signed exclusive release agreements with single screen exhibitors, which Devgn said was to block SOS.
While the Competition Commission of India has rejected the complaint, SOS will be releasing in 1,000-1,200 screens, of which single screens will be 400-500.
SOS will open in 350 screens abroad simultaneously on November 13. Film industry experts say while in multiplexes, the release ratio of JTHJ and SOS is 65:35, in single screens it is 70:30, across India.
Independent film distributor Suniel Wadhwa said, "This Diwali seems to be big bonanza for the producers, distributors, exhibitors and audiences. Jab Tak Hai Jaan, the late Yash Chopra dream project, is most awaited as he has directed a movie after a gap of eight years.
Chopra's foresight was always futuristic as audience have grown watching his films and to capture today's generation, it has female leads like Katrina Kaif and Anushka Sharma being paired with the hottest star on earth, Shah Rukh Khan."
While a few experts are giving a thumbs up to JTHJ, senior film critic Vinod Mirani said that YRF's move of blocking single screens may not help much. "Single screens watchers will have more affinity towards an action film such as SOS. Moreover, JTHJ's length and the fact that music has still not picked up, will not go down well with the movie goers."
Meawwhile, for SOS, Wadhwa adds, "SOS looks entertaining as it is remake of Maryada Ramana directed by Raja Mouli. A proven hit in Telugu. It has its own space and already captured audience which has a segment of mass appeal."