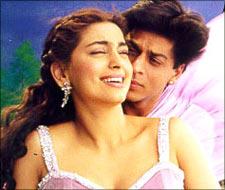 Juhi Chawla is probably regreting her outburst to a newspaper recently when she claimed that Shah Rukh Khan did 'too little too late,' referring to his acknowledgment of her brother Bobby Chawla, who has been in a state of coma in hospital for a long time, at the music launch of Ra.One. Chawla was the CEO of SRK's production house Red Chillies Entertainment, and had helped the actor set it up.

At a recent event, the actress claimed the outburst was the result of emotions she has been carrying it for a while now. "The other day I was coming back from (photographer) Gautam Rajadhyaksha's condolence meet when the media asked what I thought of him (Shah Rukh Khan).

In that emotional state, I said why do we talk about a person when he is not around? How many times have we said how much person means to us when that person is around? The whole thing was blown out of proportion by the media. There's nothing like 'Juhi lashes out at SRK.'"

Juhi added that she was happy that SRK recognised Bobby's contribution to the production house, and the film. But she admitted that the acknowledgement came late in the day.

So have they spoken to each other after these reports came out? "Shah Rukh does not have time," Juhi says. "He is a workacholic. He works 20 hours a day, so where is the time? I am also busy with the promotions of my TV show, Badmash Company."