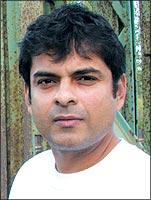 Joseph Mathew's 90-minute long documentary Crossing Arizona , which had its world premiere in a competition section of the Sundance Film Festival in Park City, Utah, has been receiving plenty of attention.
And a certain amount of controversy, too, with groups who want border control across Mexico calling the film a sentimental piece of work.
The film focuses on the plight of illegal migrants from Mexico who risk their lives for better wages in America. Mathew knew the story was controversial, he told Deseret Morning News, but added that it urgently needed to be told. It was an issue he wanted to have a face (and film) for the public to see — especially, he said, when the prevailing viewpoint shown in the media is that of the Minutemen (a self-styled militia that hunts illegal border crossers).
'You find more and more women and children crossing the border," he told the Utah publication. "It's this whole snowballing crisis that is getting worse.'
Each year, more than a million undocumented migrants attempt the dangerous journey across the border and through the deserts of Arizona, the newspaper said. A significant number of border crossers are caught and sent back. At least 464 died last year — some officials estimate two to three times that number — mostly from dehydration, the Deseret Morning News said. 'People get the impression that the border is wide open and anyone can walk through it,' Mathew said. 'It's not open. It's hard to get through.'
His film was among 16 documentaries for the Sundance competition chosen from 448 entries.
Crossing Arizona, which was started about two years ago, is Matthew's second documentary; the first was The Last Season, about the demolition of a stadium in Baltimore. Mathew directed the 70-minute long film with Charles Cohen who, like Mathew, was based in Baltimore four years ago.
Crossing Arizona cost about $100,000 and involved over 200 hours of shooting. 'Not to mention days of planning, and post editing and trying to have the films sent to festivals around the world,' he says with a sigh. Mathew says the film tries to take "a balanced, intelligent and far-reaching look" at America's border security problems. He adds that it is essentially a film about human stories unfolding in the midst of a crisis.
He spoke with India in New York before the start of the Sundance festival.
You are among many young filmmakers of Indian origin making an impact…
I am not really young. I will be 40 soon.
Shall we say emerging filmmakers, then?
(Chuckles). I think that would be alright.
How long have you been living in New York?
For the last few years. I was in Baltimore where I made my previous documentary.
Where did you grow up in India?
I was born in Kerala, and studied economics and finance in Thiruvananthapuram. I was always fascinated by photography and movies though.
How did you get started in America?
I worked as a freelance photographer, getting assignments from the Associated Press, for instance. I have been in America for about a decade now.
What led to documentary filmmaking?
I got burnt out covering spot news. I have been thinking of exploring long-form storytelling. Also, about that time, digital video came onto the scene, and that made everything easily accessible.
How did you learn to make films?
By watching good films, by studying documentaries and reading about them.
Did you go to film school at all?
I did not, but I was into photography for many years. I think I was able to bring many of those qualities to making documentaries. I learned quickly to just hang out and let the story come to me, even if that meant waiting for a long time and visiting a particular place again and again.
How did you raise money for the two documentaries?
It is a very tough thing. We financed this film with our credit cards and lots of help from friends and family. It is surprising how a number of people offer to help – not necessarily money-wise – when they find out you are working on an interesting documentary that could make a difference.
Where did the initial idea for your first documentary The Last Season come from?
We were looking for a subject that had a lot of weight. And when we heard that a historic stadium in Baltimore was being torn down, we set to work on the documentary.
But would the film have had any impact outside Baltimore?
The most important aspect of the film was to capture the American habit of abandoning the past in pursuit of what is deemed to be progress. The documentary was about a specific stadium, but its story was essentially the story of America.
How did you go about making this documentary?
It wasn't an easy film to make either. Cohen and I must have spent over 200 hours each shooting for the film. Included in it were interviews with players, ushers, city officials, sports fans and historians. And the demolition crew. The film was extensively covered in the Baltimore and Washington media, and got us an award from Baltimore magazine.
And the new film?
I have been reading about the plight of Mexican migrant workers for a long time, but the kind of documentary I was planning was simply not there. During initial work on the film, I met a native American activist, Mike Wilson, who has been doing humanitarian work for the migrants. I started with him.
As were driving across Arizona, close to the Mexican border, we were jolted by the appearance of a severely disoriented Mexican. He had been walking for about two days from the border. He had very little water left, and nothing else to eat or drink. I decided the film had to be made. The rising death toll in the Arizona desert was the greatest motivation. I was also attending the International Affairs program at NYU a couple of years ago and learned about the sanctuary movement of the Eighties. I discovered that many of the same activists were still working on border issues, and Wilson was one of them.
Do you think that, as an immigrant, you are in a better position to deal with the subject?
I am a migrant, too, and I can understand much more than someone who is not a migrant the issues involved.
Who are your biggest creative influences?
Photographers like Henri Cartier Bresson and Robert Frank were early influences. As for filmmakers, I must say Wim Wenders and Satyajit Ray. There are others, surely, but these are the most important.
What were some of the biggest challenges you faced while making Crossing Arizona?
Raising money! Shooting in Arizona was no fun either, considering I had limited funds. I also had to spend some time offering other insights and perspectives.
Other perspectives?
I felt I had to tell a comprehensive story rather than just focus on one issue along the border. As the subject matter is complex, this was extremely challenging. My sympathies are obvious, but other viewpoints had to be there too.
What was your reaction when you heard from Sundance?
I still cannot believe the film is going to a festival where independent films, especially documentaries, are highly regarded.
What do you hope to get out of the festival?
The most important thing is to get a distributor for the film. And then, one must also make time to watch the films at the festival, especially the documentaries.