Controversies follow her like her ever growing brood.
Angelina Jolie maybe accused of being a wild child but what gets her goat is being accused of being a racist.
The actress, who is fast emerging as an Oscar nominee for her sterling performance as the pregnant wife of the slain journalist Daniel Pearl in A Mighty Heart, is not hiding her irritation and hurt feelings about an unpleasant episode that occurred during the film's shooting in Mumbai.
And she asserts that though there is not a racist bone in her body, the accusations hurled against her bodyguards still upset her. It was as if she is being blamed of being a racist, she told Newsweek magazine.
The film, which is getting strong buzz, is being released in the US on June 22. It is the story of Daniel Pearl, a Wall Street journalist who was kidnapped and beheaded by jihadists in Pakistan in 2002.
Two of Jolie's bodyguards were arrested last July after a scuffle with parents and photographers at a Muslim school in Mumbai. There were reports that they hurled racial epithets at the parents and eager photographers. The incident drew the attention of the media across the globe.
Jolie was shooting a scene at the school with actors dressed in Pakistani police uniforms and holding AK-47s standing in the courtyard. Trouble started when the parents came to pick up their kids in the afternoon. Finding the gates closed (to keep paparazzi out), the parents became worried and demanded the gates to be opened. The school obliged and the parents entered followed by the paparazzi. A scuffle ensued when Jolie's bodyguards and the film's security guards tried to control the crowd.
The next morning, two of Jolie's bodyguards, who are British, were arrested for intimidation.
Unnamed sources in the newspapers claimed that they had called the parents and photographers 'bloody Indians' and 'bloody Muslims.'
Jolie, who is one of the better known Hollywood actresses in India, says she went from being a well-liked star in India to a famous racist overnight because of the unsavoury incident.
'We've become so eager to accuse people of being racist, but I would rather they make up almost any other story -- about me sleeping with someone, anything -- but that,' she says in a Newsweek interview.
Jolie, 32 is a good-will ambassador for the United Nations High Commissioner for Refugees for over five years and has visited places hit by population crisis. She has also adopted three children; one of them an African and the other from Vietnam.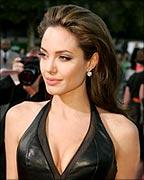 'It's not only a crazy accusation, but it's the most insulting thing you could say about me, that I would employ someone who would be disrespectful to someone's race or would harm a child,' she added. 'They take care of my kids.'

 

Jolie says that one of the reasons she became attached to A Mighty Heart was that it was sending out a message

that fanaticism and racism cannot be fought with similar attitudes. And she endlessly admires Mariane Pearl for not harbouring anger and revengeful thoughts against the men who killed her husband, partly because they suspected him to be a Mossad agent, and partly because he was a Jew.

 

"Marianne suffered the ugliest side of all that is going on in the world today and came out of it believing we cannot just be angry and blinded by hate but must continue to have a dialogue," Jolie mused on the press day for the film last week

 

She said she took up the role in humility. "If I don't represent her right and people don't see what a beautiful, strong, open-minded, loving woman she is then I've done a disservice and hurt a really great woman," Jolie said.

 

Jolie, who gets about $12 million for big budget films such as Mr and Mrs Smith, which grossed over $350 million worldwide, worked in A Mighty Heart for just about $1 million, Hollywood insiders say. Her companion Brad Pitt is one of the film's producers.

 

Pitt, who ended his marriage to actress Jennifer Aniston to be with Jolie, has fathered a baby girl with the latter. And like everything to do with Jolie, the new film too is surrounded by many controversies.

 

Some actors, including British Thandie Newton (Crash) said they were shocked that Jolie played Mariane Pearl, a product of Afro-Cuban and Dutch descent. But the real Mariane Pearl, who is a practicing Buddhist, warmly embraced the idea that Jolie was playing her on screen.

 

She also helped the actress get insights into playing the beleaguered and pregnant character on the screen. 'I know that people are frustrated at the lack of great roles [for people of colour],' Jolie told Newsweek. 'But I think they've picked the wrong example here.'

 

Pearl was more outspoken: 'This is not about skin colour. I wanted her to play me because I trust her. Aren't we past this?'

 

Soon after the premiere of A Mighty Heart in New York, Jolie was accused of trying to control the press. Some commentators said it was ironic that while she championed a film which was also about the freedom of press, her lawyer and publicists wanted the media to sign an agreement that they would not ask her personal questions.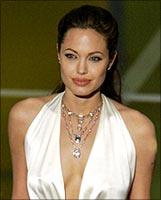 Jolie's lawyer, Robert Offer, told the media after the controversy broke that the stipulation was the fault of 'a boneheaded, overzealous lawyer,' referring to his role.
Jolie, who says she admires courageous journalists, told the Daily Show's Jon Stuart: 'I think people are always looking for, unfortunately, the most negative story... But it was not mandatory and -- again, I didn't put it out there. It was from my representatives trying to be protective of me, but it was excessive and I wouldn't have put it out there.'

There were also controversies about her looks.
Her thin look and bulging veins at the New York premiere was a topic of much speculation.
Jolie later revealed that her mother's death due to ovarian cancer led to a dramatic weight loss. She told reporters: 'I've always been lean and this year, I lost my mom and I've gone through a lot. I have four kids and I have finished breastfeeding -- it's been hard to get my nutrition back on track.'