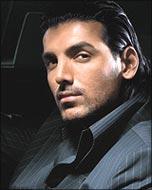 Security at Mumbai's Lilavati Hospital was tightened and entry was somewhat restricted as celebrities dropped in throughout Tuesday.
Two known faces from the film fraternity were being treated there -- Salma Khan, Salman Khan's mother, who had a panic attack on Monday night soon after her son was sentenced to five years in prison, and John Abraham, who suffered multiple injuries on his left knee and foot after his bike collided with a cycle in Mumbai's Khar last Saturday.
A host of journalists parked themselves at the gate, not letting a celeb pass without granting them the usual soundbytes.
John was discharged Tuesday evening. According to his mother, "He is walking with a limp and needs some rest."
During this correspondent's visit to cabin 1106 earlier, the Dhoom star, clad in a white kurta-pyjama, with a plaster on his left foot and struggling to keep his long hair in place, was surrounded by friends and relatives. Apart from John's girlfriend Bipasha Basu, those present included designer Rocky S, director Milan Luthria, actor Anil Kapoor as well as three of the actor's maternal aunts.
If one asked how John was feeling, a faint smile was the only answer one could get.
Perhaps what ailed the actor more than the fracture were false reports of his drunken driving which even hinted at the actor's probable arrest.
John met with the accident while trying to save two cyclists riding 'double,' on the wrong side of the road. "No matter how carefully one drives, one cannot stop others from making mistakes," said the Bollywood heartthrob in a letter to the media earlier this week. "He is a teetotaller," stated the actor's friend in a tone of finality. That a test done earlier had negated presence of alcohol in John's blood was another matter altogether.
As John's well wishers kept telling his mother Firoza Abraham, "Nazar utarva lo iski (do something to drive away the evil spell on him)", a fatigued look that Firoza sported said it all.
In the past four months, John was hospitalised for the second time. Last December, he was at the same hospital following a viral attack. Lilavati almost looked like the Press Club at the time, as John had none other than Amitabh Bachchan for company.

Over tea, the senior Abraham spoke at length about the excesses of the media. She felt curious about how the media manages to get information in seconds and exaggerates each and every incident in her son's life much to the chagrin of his family. As she voiced concern for John, she spoke for universal motherhood.

After John, it was Salma Khan who deserved a visit. Feroza was on her way and this correspondent tagged along. 
The senior Khan was in the same floor recovering from anxiety and chest pain. It was heard that she had been feeling nauseous, and had vomited a couple of times. 
Stationed at room 1101, Salma had for company the legendary Helen dressed in a blue salwar kurta, husband Salim Khan in a white kurta pyjama  (one could not possibly overlook the diamond stud in his ear) and some relatives. While Abraham enquired about Salma's health, the latter wanted to know if John was doing well.
Two sides of her bed were occupied by none other than Salman's girlfriend Katrina Kaif clad in (once again) a white salwar kurta, sans make up and daughter (Salma's sister) Arpita. As a television channel was about to air a report on Salman, Salim Khan, Helen, Arpita and Katrina left the room in a hurry to catch it.