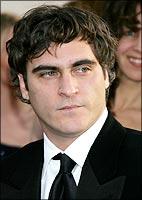 This year's Oscar nominee Joaquin Phoenix has been having an eventful week.
After bagging an Best Actor Oscar nomination for Walk The Line, Phoenix had an accident on January 26, when his car's brakes failed on a winding road in Laurel Canyon, Los Angeles.
Apparently, in order to avoid hitting another car, the 31-year-old actor was forced to swerve his vehicle, and it overturned.
In a strange twist, the man who eventually pulled Phoenix out of the car was German director Werner Herzog.
Phoenix later said that as soon as he heard Herzog's voice, he felt safe, adding that there was something very 'calming and beautiful about Werner Herzog's voice.'
Herzog, 63, who won the Best Documentary award for 2005's Grizzly Man at the Directors Guild Awards on January 28, lives near the accident scene.
Phoenix sure has been having an eventful week, and not just because of the Oscars.