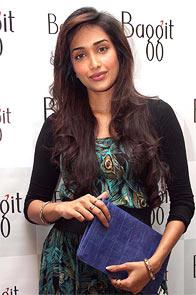 In her statement tot he police shortly after her daughter Jiah Khan was found hanging from a ceiling fan in their Juhu flat, Rabbiya Khan said that Jiah was worried about her future.

According to industry sources, several film deals had fallen through and Jiah was anxious to jumpstart her movie career again.

According to reports, she was almost roped in to perform an item song in Apoorva Lakhia's Zanjeer remake but it didn't materialise either.

"Jiah got in touch with Lakhia for a song in Zanjeer. They met and details were being worked out but the song was scrapped and that was the end of it," a source from the sets of the film informs.

The late actress was reportedly being persuaded to improve her networking skills but the idea of socialising with people she didn't know didn't appeal to her.

"Jiah became more isolated from the industry as the pressure mounted," claims the source.

Actor Raza Murad, who was by the bereaving family's side at the funeral,
feels that Jiah was unable to cope with the demands of the industry.
"Jiah didn't know how to manipulate her way into a successful career. This, at the end of the day, is a male dominated industry. A big star has the power to make or break any aspiring actor's career," he said.
Jiah had, apparently, given in and was reluctantly approaching people for work.
"Nothing can be more distressing for a newcomer than to be ignored and sidelined. Female aspirants are specially vulnerable to feeling the frustration of failure. That's why we hear of so many female aspirants ending their lives.
"For Jiah, that feeling had become unbearable. It's very sad that this talented youngster had to take such an extreme step," Murad adds.
The veteran character actor feels that Jiah's death shows the darker side of showbiz.
"She had the looks, talent and confidence to become a star but she didn't belong to any big camp in Bollywood."
Photograph: Sahil Salvi