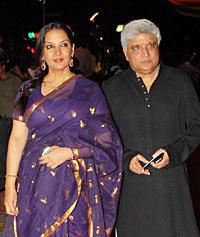 On the morning of November 29, poet-lyricist Javed Akhtar had a terrifying experience -- he couldn't move!

Recalling the horror of having lost the power of his limbs, Javedsaabsays, "On that fateful morning, I got up as usual. I had been suffering from a nagging back pain in my lower back for some time which I had been ignoring. You know how it is. We tend to play down our body's warning signals until it is too late. Suddenly, I realised how fragile the human body is."

"I came out of the loo, went to the bedroom and sat on the bed. After that, I just couldn't move. I couldn't get up from the bed or lie down. I had the most acute pain in my lower back. The pain was so unbearable that I shrieked out in agony," he says.

Unfortunately, Javedsaab had locked the bedroom door from inside. "So no one could come to me to help. I sat there screaming in pain. Finally, my man-Friday had to break down my bedroom door.

"I had to be rushed to the spinal hospital, where I am now 80 percent recovered. I can move, go to the loo, talk to friends, read and write without pain."

Javedsaab has been admitted to the Indian Spinal Injuries Centre in Delhi.

The experience has put the fear of God and mortality in the poet. "We tend to take our body for granted. Because of the pain in my lower back, I had stopped doing all exercise. Now I intend to follow a strict regime."
"It's been a traumatic time for both of us," adds wife Shabana Azmi. "Luckily, Jadoo is now recovering fast. But anything could have happened. I felt so helpless because I could do nothing to relieve his pain. To see him crying in pain was unacceptable to me. He couldn't move and had to be taken out on a stretcher to the ambulance."
Shabana is all praise for the medical fraternity. "The doctors -- Dr Chhabra and Dr Bhushan -- who are looking after him are absolutely worldc lass. We get the best medical treatment in India," she says.
In the picture: Shabana Azmi and Javed Akhtar. Photograph: Pradeep Bandekar