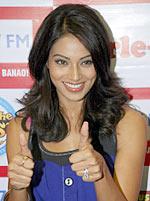 The audio-tapes of a conversation that allegedly took place between politician Amar Singh and actress Bipasha Basu in 2006 have been released by a leading publication.

And that has left Bipasha fuming. The actress reacted strongly, and has challenged anyone to prove that it is indeed her voice.

'Pls request u all to go n hear d conversation 1st n then if u still think its me, I openly challenge anyone to prove it is me!' Bips, who is currently shooting for Players in Russia, tweeted.

She added: 'A celeb takes beatings of all kinds but if my dignity is challenged, I am ready to take this issue up in a stronger manner! There is a limit of making up stories at the cost of a celeb! Sensationalising ridiculous and untrue stories is not ethical at all.'
For those who don't know, the conversation as it features on the tape was quite flirtatious, with the woman insisting on meeting up with Amar Singh.
Do you think Bipasha is innocent and being falsely implicated in this controversy? Or do you think there's no smoke without fire?