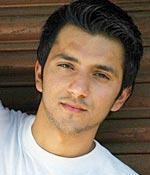 If you think there's high drama at the
Bigg Boss [

Images

]
house, it's probably nothing compared to what's next in store.
Sara Khan's boyfriend Ali Merchant will now enter the house to sort out the differences between them. 
Two days after entering the house, Sara had ripped apart a photograph of Ali and her because she had indicated that he was two-timing her. Ali, on the other hand, is apparently upset with Sara for getting too close to her housemate Ashmit Patel [
Images
]. Sara had been staying in the secret room for a few days, and witnessing Ashmit romancing with Pakistani artist Veena Malik. Now that she's back in the house, things are likely to change.
A source says that Ali will enter the house only to tell Sara how much he loves her. He is expected to stay for a week. His entry will be telecast in tomorrow's show.
Is the Sara-Ali-Ashmit drama scripted? What do you think?