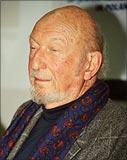 When the director of Star Wars Episode V - The Empire Strikes Back comes to India to scout for an Indian actress and sings praises of the Hindi film industry, you know what they mean by a global village.
Yes, Irvin Kershner, who has also directed big Hollywood flicks like the James Bond saga Never Say Never Again and Robocop, was in Mumbai recently for his new film, The Princess And Wizard. The children's film is going to be a Bollywood-Hollywood joint venture, with large portions of it shot in India.
And in an interview with Komal Mehta, the director says the best things about Bollywood films are the song and dance sequences.  
How did you decide to associate yourself with a Hollywood-Bollywood venture? How did the idea work out?

I was always impressed by the works of Bollywood and Indian stars. And my friend and the producer of this movie Dr Arjun Daluvoy, (a non-resident Indian) insisted on coming to India and exploring the talent and scenic locales of India.
He is the founder of World Entertainment Media promoting fusion of the best of the best from the East and West in the entertainment industry: Film, fashion, music and lifestyle.
Arjun got me interested about filming in India. But I knew nothing about the country. So I decided to create a story that need not be Indian, which could be universal but could still be shot in India.

With films with fantasy themes getting popular (Lord of the rings, Harry Potter etc), was it a conscious decision to make a fantasy movie?

I personally feel every movie is a fantasy -- they could be closer to reality but none of them are real. My earlier movies like Star Wars and Robocop II are all fantasies. This movie is also a Fantasy, a fairytale, a fable. There is a moral and it is a universal theme. This is a dream project, it's a drama between children and their parents, basically full of human interactions. The film will be for children to love and adults to giggle, enjoy and reminisce about.
Besides I also do not like violence.

The movie has a Middle Eastern theme, you could have chosen any Eastern country; why chose India?

The movie is a fantasy it is a fairytale set in (a period) more than 1,500 years ago. I have studied fairy tales from all over the world to see what they had in common before writing this movie. So it is for everybody across the globe.
And nothing could have been better than India where I would have got talent and beautiful locations to shoot. And in terms of technical expertise India also scores high.

Have you seen any Bollywood movies? What is it that impresses you about Bollywood movies?

I've seen quite a few movies and I think Bollywood is amazing. I love Hindi films. I have 10 Hindi movies in my collection. And the most striking factor of these films is the song and dance sequences. Often I fast-forward the movie just to see the dances. Also the Indian actresses are very beautiful and talented.

You have been a painter, a photographer, musician and a director too. Which medium of creativity is your favourite?

I love doing all of it, it's very difficult to choose. But I guess writing and photography are my passions.

Is there any other medium that you want to experiment with and haven't been able to do until now?

I've explored the varieties of creativity -- from direction, script writing, and photography to teaching. I think the only thing that remains is acting, but I don't think I'll be able to do that. It's very difficult.

What are the other projects that you are currently pursuing?

I'm completely focused on this project currently and my age and health does not allow me to do more than this much.

Which is your favourite Star Wars and James Bond movie except the ones you directed?

The truth is none because I don't like violence. I was also not to direct Never Say Never Again -- I never liked the Bond pictures. But Sean (Connery) -- whom I had directed in A Fine Madness -- asked me to take it up. And I created a totally different type of Bond to suit his age. I like just the fantasy part of Star Wars.

Slowly but steadily the world is turning to Eastern ideologies of families, culture, spirituality, alternate healing and so much more. As someone who has now known both worlds, what do you think Eastern culture has to offer to the West?

The East has a lot of depth and wisdom. The people here smile a lot unlike the West and they are rich in heritage. I was blown away by the beauty of Rajasthan. The forts and the palaces we saw were gorgeous.

You are a faculty member at the University of Southern California. Do you love teaching too? Which part of it is most enjoyable? What is your perception of the youth today?

It's pleasure to teach youngsters. I teach them about our culture and films with social issues. It's more of a learning experience than teaching. They are very mature and socially aware. Being with them makes me feel enthusiastic about everything. I'm amazed by their spirit of achieving great things in life.