Adding to the crowded office of Mahesh Bhatt in Mumbai's Juhu-Vile Parle area are the directors and actors of his latest film, Killer. One of them, actor Irrfan Khan, spoke to rediff.com about his latest project and forthcoming work. Excerpts:

"I am not an authority on the film, so I cannot tell you much about it. It's more fun to watch a film than to hear about it. Films are meant to be understood and experienced. Killer is like a roller-coaster ride -- an intense film. It is like a Tom and Jerry film where the two characters, Emraan and I, try to get the better of each other.
I prepare differently for every movie. It depends on the situation as well as the character, and my experiences in real life. I play a freelancer in this film; one who does a job for whoever pays me.

Mira Nair's Namesake, in which I have played a part, will be released worldwide in November by Fox Searchlight.

I entered the world of cinema because of Naseerudin Shah. He has influenced an entire generation. He is an innovative actor and has made realism popular. Motilal and Dilip Kumar used to do it earlier, but Naseer has laid more emphasis on it. It is not method acting or instinct, it is more than that. He has introduced acting as a craft to us.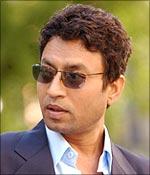 I don't do every role offered to me. I don't do all kinds of characters. I have three or four releases a year. How can you do more than that? Many filmmakers do not choose me, and I am also choosy. Yu Hota To Kya Hota, directed by Naseerudin Shah, is another of my forthcoming releases, apart from Killer.

I have acted in one film with Shobhana. It has yet to be titled, but it has been shot. It is about bringing up a child. I have also worked on another film called Tulsi, with Manisha.

There are a few directors I would love to work with, and Sreeram Raghavan is one of them. I want to work with Naseer again, and with Vishal (Bhardwaj, who directed him in Maqbool). Mani Ratnam is very good, as is Ram Gopal Varma. I loved Taxi No 9211. Anurag (Bose, who made Gangster) is another good director.

I am doing a film with Sunny Deol and another one called Thevar. For the moment, I am only doing Hindi movies."