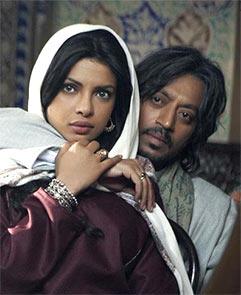 It was reported recently that Irrfan Khan would play the legendary poet Sahir Ludhianvi and Priyanka Chopra would play poetess-author Amrita Pritam with whom Ludhianvi had shared a long and stormy relationship.
However, the project's producer Ashi Dua denies having signed the actors, and dismisses it as 'mere speculation'.
Further investigation reveals that Farhan Akhtar has been approached to play Sahir Ludhianvi.
"His father is a poet and Farhan himself understands and writes poetry," says a source. "He will able to recite and sing Sahirsaab's lines," says a source.
"Priyanka has just played Mary Kom, and the role is likely to make a powerful impact on audiences. For Priyanka to be convincing as another powerful real-life character from another era so soon would be difficult," the source adds.
In the picture: Priyanka Chopra and Irrfan in 7 Khoon Maaf