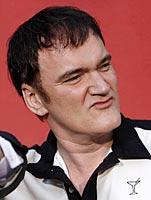 Quentin Tarantino would have squirmed if he had read today's burning topic on the Internet -- on his alleged (we use the word 'alleged' as there has been no reaction from him whatsover, either in confirmation or denial) encounter with an Indian girl.

The sexual encounter involving him and this girl called Beejoli was the topic of discussion across social networking sites all of Wednesday.

Beejoli narrated the story graphically, starting with how she met the Oscar winning director when she was out partying with her friends, and how he first publically made out with her, and then invited her to his bar for a longer session.

After they pleasured themselves -- at least the director did, according to her, by working on her toes, his well known fetish -- they went off to bed. The next morning, Tarantino dropped the girl to her home himself, she says.
What we wonder is, has Uma Thurman read this story?