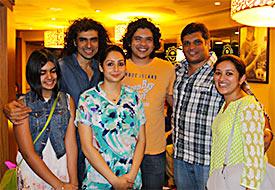 After Imtiaz Ali's brother Arif made his directorial debut in Lekar Hum Deewana Dil, it's now the turn of their youngest brother Sajid to make his mark in the Hindi film industry.
Sajid will make his directorial debut with a film titled Bananas.
It will be produced by John Abraham but he will not star in it.
Though details are not known yet, one learns that it will be a coming-of-age film set in Jamshedpur, the town where the Ali brothers grew up.
According to a source, "Banana is a film about friendship, loyalty and love, set in Jamshedpur. The protagonists are 17-year olds. Sajid has shot the entire film in Jamshedpur. It's about the ups and downs of school life."
Sajid Ali is 12 years younger than Imtiaz Ali.
Says Sajid Ali, "Yes, I'm following my brothers into film direction. I've followed them all my life, trying to be like them. They've set high standards but let's see if I can live up to expectations."
Sajid says Bananas should be out by year-end.