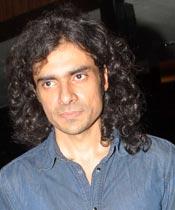 Rockstar
director Imtiaz Ali will be the creative producer of the official Hindi remake on 2009 South Korean romantic comedy
My Girlfriend is an Agent.


The project marks Imtiaz's wife, Preety Ali's foray into film production with PI Films. Choreographer Bosco of the Bosco-Caesar duo debuts as the director for the film, UTV Motion Pictures announced today.
"Most exciting for me is that Bosco is directing it. I don't think many people know how to put fun on screen like Bosco,"
Ali said.
The film tells the story of two spies, once in love but now at each other's throats, on a mission to stop a Russian crime group from stealing an advanced chemical weapon.
"It's great to be collaborating with Imtiaz, Preety and Bosco on this really exciting project. From the day our team at UTV saw
My Girlfriend is an Agent,
we knew it was a film we just had to remake in Hindi," said Siddharth Roy Kapur, CEO of UTV Motion Pictures.
He further added "We showed the film to Imtiaz and he felt just the same. Getting Bosco on board to helm the project puts it in the perfect zone creatively and the whole team is now raring to go."