'I am subtle because of my mother.'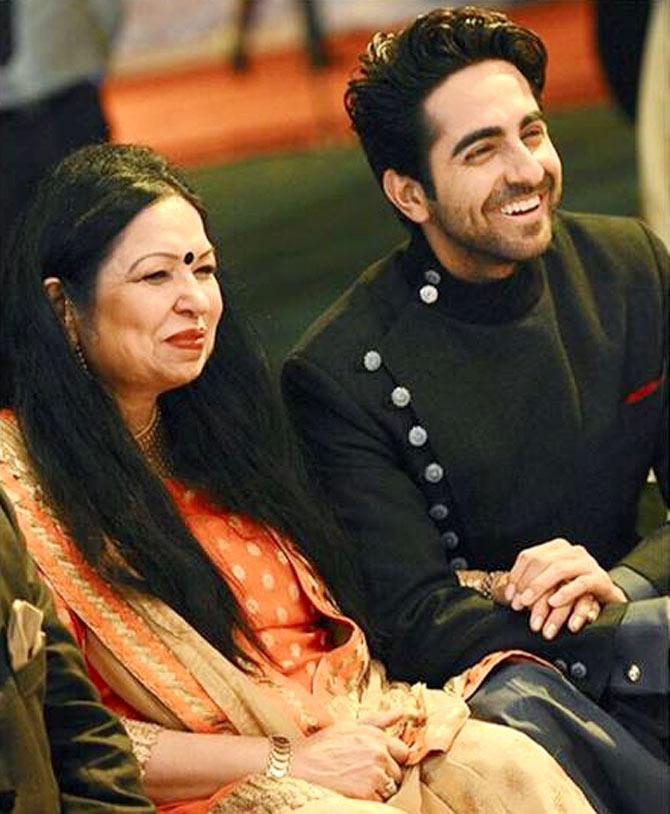 IMAGE: A mother is always proud of her son. Don't miss the way Poonam Khurrana holds Ayushmann's arm! Photograph: Ayushmann Khurrana/Facebook
For anybody, no matter what age, a mother is the most important person in their life.
On Mother's Day, Ayushmann Khurrana tells us how is he a subtle Punjab, thanks to his mother, Poonam.
"I have got my dimples from my mother," says Ayushmann, smiling so that his dimples become even more prominent.
"Apart from that," he continues, "I am subtle because of my mother."
"Being a Punjabi, I am not loud, which is an oxymoron," he says, "I still feel that I am a Bengali trapped in a Punjabi body. I am in love with Bengal these days."
Ayushmann plays a Bengali in this Friday's release, Meri Pyaari Bindu. "I have discovered Rabindranath Tagore and Rabindra sangeet. I plan to put a life-sized portrait of Tagore in my next house," he says.
That academic side of reading about Premchand and Manto comes from his mother.
And that's where he's got his patience too.
"Most of the good qualities I've got are from her," he adds.
"Of course, my talent comes from my father's side but my mother is responsible for my character," he says.
Happy Mother's Day, Mrs Khuranna!