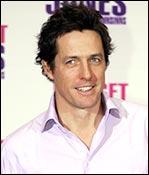 Madame Tussaud's waxworks museum in London is so famous that most of the world's greatest celebrities are happy just being a part of it.
It takes a native, irreverent Brit bursting with candour to do what lots have, awed, shut their famous trap about. Hugh Grant, says IMDb.com, is appalled by his waxwork twin in the famed London museum.
The foppish, very English star was convinced his wax replica would be flattering, and encouragingly asked artists to measure his entire body.
He explains: "In 1994, they asked me whether I wanted to work with them in creating a wax figure and let myself be measured up, or they would do it from photos. To make sure the result was good, I played along and let every inch of me be measured."
Horrified by the consequences that followed, Grant let fly with one of his inimitable quotes, decrying two British institutions in one sentence, like only he can: "The result is awful! They ought to put my figure into the chamber of horrors alongside the mass murderers. I look like Julie Andrews on heroin."
Photograph: Getty Images