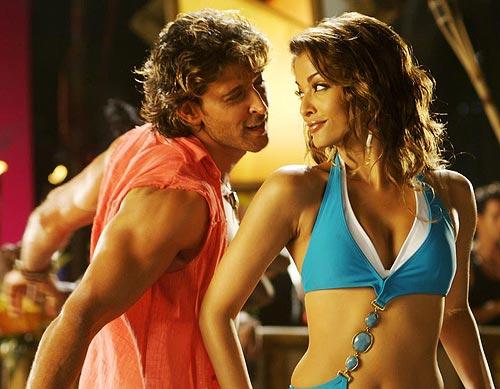 Director Sanjay Gadhvi takes us behind the scenes of his 2006 film, Dhoom 2, where he worked with Hrithik Roshan.

Hrithik Roshan impresses not only his legions of fans with his work but also the directors he works with.

Sanjay Gadhvi, who worked with the star in Dhoom 2, was clearly impressed with Hrithik's talent and dedication.

On Hrithik's 40th birthday, Gadhvi tells Patcy N what Hrithik is really like.

I met Hrithik Roshan for the first time at a trial show of Dhoom.

Hrithik praised the film and said that in the climax scene, when John Abraham falls into the river and Abhishek Bachchan and Uday Chopra walk away, the next shot should have been of the waves and a hand coming out of the water -- the gloved hand of Kabir (John Abraham), and the frame should freeze there. That should be the end of the film.

I told him it was a good idea, little knowing that he would be part of Dhoom 2.

By mid-2005, we had finalised Hrithik for Dhoom 2 and we started shooting in October 2005.

Hrithik wants to be good in everything. He selects his films very carefully. He gives lot of time to pre-production preparation.

I remember having five-hour plus meetings at his house just discussing his character Aryan in Dhoom 2.

He did not discuss the film, or the love story, or the action. It was about who is Aryan, what is his background, where has he come from.



He was surprised that I was ready to talk about these details with him. He got so excited and charged up with the meetings that we had these long sessions quite often.

He made Aryan's character more interesting because of these meetings.

Hrithik is a chilled out guy, he is always focused on his acting and his performance.
When he gives a shot he wants to rewind and see it.
He doesn't use phones when he is on the sets, only during breaks.
When we were shooting
Dhoom 2
in Rio, all five actors (Hrithik Roshan, Abhishek Bachchan, Uday Chopra, Aishwarya Rai Bachchan, Bipasha Basu) would go out for dinner everyday. But they didn't stay out late because of the shoot next day.
I have worked with so many actors. Hrithik is the biggest star that I have worked with.
He is focused, he knows what he wants, he knows his strengths and weaknesses. He listens carefully to the director.
I don't want my actors to listen to what I am saying just because I am a director; I like to earn my respect.
So the first day of a shoot with my star is important for me.
On the first day, we were shooting a scene at the Junaghad Fort with Hrithik and Aishwarya.
We had a discussion in the morning about the take. I told Hrithik that I wanted to go with the fourth take but he insisted on three more takes.
At lunch time, Hrithik checked all the shots.
Then he patted me on my shoulder and said, 'Sanjay you were right, the fourth shot is better than the sixth and seventh shot.'
That was when I earned his trust.
He doesn't go to the make-up room or his room after the shot. Only if there is a break of more than 45 minutes will he go to his room.
He got the Filmfare best actor award for a movie like
Dhoom 2,
which is supposed to be a time-pass movie. He thanked me at the awards function.
My favourite Hrithik film is
Dhoom 2
. He has done everything in that; it's a complete masala film.
H
is son Hrehaan was born in March, a month after our Rio shoot ended.
He was constantly in touch with his wife Sussanne. He told me she would have come but she can't travel because she was expecting.
After the child was born, my wife and I went to his house to wish them.
Hritik was very excited. The shoot had been planned in such a way that there would be a break when the baby was born.
I last met him at the Bachchans' Diwali party.