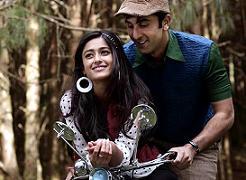 Anurag Basu's
Barfi!
managed the rare feat of getting the unanimous thumbs up from
critics
as well as the
masses
.
In further good news for the film, it was selected as
India's official entry
to the Oscars in the Best Foreign Language Film category and more recently, made it to the prestigious Rs 100-crore club. It also happens to be Ranbir Kapoor's first film to have broken into the club.
The makers of the film, UTV, released the film in only 618 screens which is not a very big number. Clearly, they didn't expect it to touch Rs 100 crore either.
So, what was it about
Barfi!
that worked so well?
Siddharth Roy Kapur, managing director of Disney UTV says, "We believe that at the heart of any great movie is a great story and
Barfi!
is a perfect example of that. It is one of those rare films that comes by once in a generation, and sweeps both audiences and critics off their feet."
He says
Barfi!
's success shows that audiences today are embracing all kinds of cinema, "and
in fact are encouraging us as an industry to take a chance on fresh new ideas and subjects.
"It has always been our endeavour to strive to create something different within commercial parameters, and the incredible performance of
Barfi
! tells us we are on the right track."
The film cost Rs 30 crore to make. It collected Rs 34.6 crore in its opening weekend and by the end of the week had grossed Rs 58.6 crore.
It has done well overseas too. After its third weekend in the UK, it made 622,039 pounds (Rs 5.30 crore) and in the USA, it pulled in $2,462,008 (Rs 12.89 crore).
Seeing the demand, the producers added 100 more cinema halls and soon after its release
Barfi!
was running in 718 cinemas.
Trade Analyst Amod Mehra explains its appeal: "It's simple: when the audience walks out after watching
Barfi!
they feel their money was not wasted and nor was their time. Plus, they walk out with a smile.
"When
Barfi!
released, there was nothing in cinemas for the younger generation. After all the positive reviews and reactions, the film went on another level.
"
Barfi!
broke the myth that to touch a number like Rs 100 crore one should release 2000-plus prints. I am sure UTV didn't expect it to be such a big hit either. That is why they released Heroine the following week."
As of today,
Barfi!
has made Rs 104.55 crore net only from its box office collections.