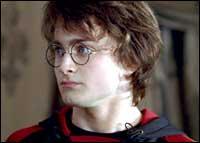 Harry Potter actor Daniel Radcliffe would love to take Hollywood beauties Natalie Portman or Scarlett Johansson to the Hogwarts Yule Ball, the wizard school's equivalent of prom night.
The 16-year-old actor revealed his love for the two glamorous stars at a London press conference to promote the latest Potter
film, Harry Potter And The Goblet of Fire.
Now that he's entering his late teens and isn't 'just a child actor' anymore, he is able to voice his opinion about his scenes on set, Daniel added.
'It's been an odd five years but it's been great. And we've got a while before the films end,' he was quoted by Sun as saying. 'I'm not absolutely confident that I'm doing them all. I'm definitely doing the fifth, but after that who knows?'
Meanwhile, Harry Potter

 

director

 

Mike

 

Newell

 

has
revealed

 

that some of the colossal scenes in 
The Goblet Of Fire had to be almost

 

axed
due to studio bosses running short of cash.
Britain-born Newell said that within a couple of months of starting on the 100 million pound film, he was 'angered' by the lack of cash. 'There wasn't enough money to make the film properly and that really p****d me off,' he was quoted by Mirror as saying.
Newell, who also directed Four Weddings And A Funeral, said the effects-packed opening of the Quidditch World Cup had faced the chop.
But after a row with Warner Brothers, it was included to save fans being 'short-changed.'
The 12A-rated The Goblet Of Fire features Harry's romance with fellow Hogwarts pupil Cho Chang, as Hogwarts prepares for the Yule Ball. But it also has fear and danger as Lord Voldemort re-emerges, stronger than ever.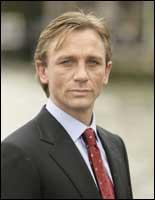 New Bond hates shaken Martinis

 

Daniel Craig may have bagged the coveted role of James Bond but the actor is no gadget-flaunting, gun-weilding fellow in real life. In fact, he has revealed that he hates guns.


'I hate handguns. Handguns are used to shoot people and as long as they are around, people will shoot each other,' Craig  was quoted by OK! magazine as saying.

 

'That's a simple fact. I've seen a bullet wound and it was a mess. It was on a shoot and it scared me. Bullets have a nasty

habit of finding their target and that's what's scary about them,'

he added.

 

Craig is not the only Bond who hates guns. Roger Moore, who played the super spy from 1973 to 1985, said after quitting the role that he hated 'that awful pose' of Bond with his gun, which has become an iconic movie image, reports Sun.

 

The actor later became an ambassador for children's charity UNICEF and declared, 'Today, I am completely opposed to small arms and what they can do to children. I played every role tongue-in-cheek because I don't really believe in that sort of hero. I don't like guns.'

 

Craig, who was unveiled earlier this month as the successor to Pierce Brosnan, also doesn't share Bond's love of Martinis 'shaken, not stirred.'

 

The 37-year-old admitted, 'I love a Martini straight up.' He will play a tougher, grittier 007 in Casino Royale, which is

based on Ian Fleming's first Bond book. The movie is due for release in November next year.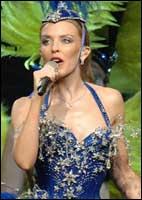 Kylie may have to undergo mastectomy
Ausstralian pop star Kylie Minogue, who is battling breast cancer at the Institute Gustave-Roussy in Paris, may have to undergo  mastectomy, according to reports.
Minogue has undergone a lumpectomy to remove the cancerous tissue and is currently under chemotherapy -- but she may well also have to have a mastectomy.
Kylie's mother Carol flew to Paris to be with the star.
'At this time, I think any woman in the world would want their mum with them, and likewise there is nowhere her mum would rather be. Kylie and her mother are incredibly close,' a friend of the singer was quoted by Daily Mail as saying.
Despite the severity of her condition, the singer issued a statement last week staunchly denying rumours that she was 'depressed' and that she was seeking treatment from an alternative medicine guru Nish Joshi, who uses the controversial
practice of 'cupping.'
The statement said: 'Despite the wealth of rumours to the contrary, Kylie is in good spirits and is as healthy as can be
expected whilst undergoing her treatment regime in Paris.'
It also denied that she had 'sought alternative methods of treatment,' saying that she 'was concerned that other sufferers
would be misled by such reports.'