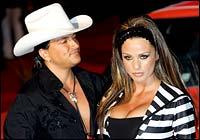 The details about singer Peter Andre and former supermodel Jordan's wedding are finally out.
OK! magazine has revealed how the model, whose real name is Katie Price, looked stunning in her pink Isabell Kristensen  wedding dress covered in thousands of Swarovski crystals, while Peter wore an ivory suit made of Venetian wool by the same designer.
Her wedding ring has 35 princess-cut diamonds and Andre's has 20.
'It's so big, I can't bend my finger,' Jordan was quoted by Sun as saying.
'The second we saw Katie, it was hard not to feel emotional,' bridesmaid and Liberty X singer Michelle Heaton said. 'Seeing her in the dress really brought tears to my eyes, she looked just like the fairy-tale princess she dreamed of.'
Jordan's son Harvey also walked down the aisle and the couple's baby son Junior was also there.
After the ceremony, Jordan said, 'This is the best day of my life. It's the fairytale wedding I've always dreamed of.'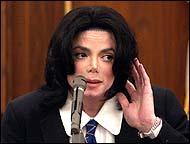 Jackson in a lycra body suit
Michael Jackson stunned onlookers when he appeared at the Wild Wadi Park in Dubai wearing a white lycra body suit that exposed just his nose and eyes.
'He looked even stranger than usual. His body is very skinny and lycra does him no favours,' Contactmusic quoted a  lifeguard as saying to the Daily Express.
According to sources, the singer, who left his residence from Neverland Valley Ranch in California for Bahrain after his June acquittal on sex abuse charges, had rented out the entire water park so that children and their parents could have fun for free.
Imran and Jemima's kids are cricket buffs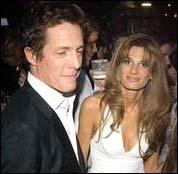 Hugh Grant and his girlfriend Jemima Khan were among thousands of fans who cheered England, as they cruised to a historic Ashes win over Australia at the Oval in London.

 

Jemima's children Suleiman and Qasim, whose father is legendary Paksitani cricketer Imran Khan, seemed to be thoroughly enjoying  the match, leaping from their seats and punching the air each time batsman Kevin Pietersen hit the ball, reports Hello magazine.

 

Other famous people present at the venue were Dame Kelly Holmes, Stephen Fry and former prime minister John Major.

 

The Queen of England watched the game from Balmoral Castle, and sent

a personal message to the squad. 'This has been a truly memorable series and both sides can take credit for giving us all such a wonderfully exciting and entertaining summer of cricket at its best,' she said.

 

Prime Minister Tony Blair also praised the team by saying, 'By bringing the Ashes back, you have given cricket a huge  boost and lit up the whole summer. It has been sport at its best.'

 
Space between lovers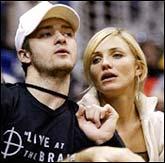 Cameron Diaz's lover Justin Timberlake will apparently have a tough time if he wants his lady love to move in with him.
The free-spirited actress has confessed she is touchy about her private space and would not like to share it with anyone.
The actress also revealed that unpleasant experiences in the past, when she tried living with former boyfriends, had taught her to keep her own private space.
'I would never live with anybody ever again. God, no! I might live on  the same block. I think people should have their own  lives,' she was quoted by Contactmusic as saying.
This comes in the wake of earlier reports that claimed that Timberlake and Diaz planned to rent a place in London so that
the former could follow his West End dreams, and be a part of Kevin Spacey's play Resurrection Blues.