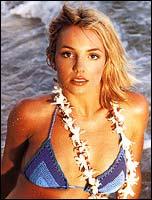 Pop star Britney Spears plays a maid in her newest photoshoot, the last in the series before she became pregnant.
According to The Sun, Britney is pictured as a raunchy French maid showing a length of leg and a lacy garter as she serves her husband Kevin Federline -- who plays a butler -- a bottle of Jack Daniels. She then sits on his lap.
The photo spread,  for US magazine Interview, also features a brunette Britney playing with her hair as Kevin serves her a poolside cocktail, dressed as a slick butler in a tuxedo and white gloves.
'I wanted Kevin and me to do some kind of character pieces, with a fun essence that didn't really take things too seriously...  I think we both have the sense of wanting to serve the other person,' Spears was quoted as saying.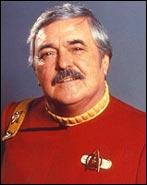 Scotty gets beamed up for the last time

 

Star Trek actor James Doohan, better known as Scotty, passed away on Tuesday at his home in Redmond, Washington. He was 85.

 

The Canada-born star, who faked a Scottish burr to create one of television's most endearing characters 'Scotty'  -- the chief engineer of the spaceship USS Enterprise on the original Star Trek -- had been battling Alzheimer's and, most recently, pneumonia.

 

Doohan's longtime agent Steve Stevens Sr said that as per the actor's request, he would be cremated and his ashes launched into space by the same Houston-based aerospace company that shot the remains of Gene Roddenberry into orbit following the Star Trek creator's death in 1991.

 

Stevens said Doohan was very ill during the Trekkie convention Beam Me Up Scotty but 'he sucked it up' to be on the convention floor with the faithful.

 

'Nobody

embraced the fans like James did. He loved the fans, and they loved him. And he felt that he needed to give back what he got,' E!Online quoted him as saying.

 

Doohan is survived by seven children, the youngest of whom was born in 2000, and wife Wende.

 

Jordan to wed in world's longest dress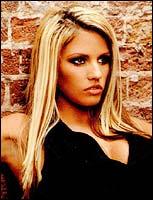 Model Jordan is set to make a world record by wearing the world's longest wedding dress when she ties the knot with beau Peter Andre at a castle in the Midlands in September.
According to sources, Jordan, who recently gave birth to her second child, wants to break the world record with an extra-long bridal train.
'No one will believe how huge the dress is until they see it. She wanted her special day to be remembered by everyone and she has certainly made sure of that. It will steal the show and everyone will remember it for years to come,' The Sun quoted a pal as saying.
The current world record is held by a Dutch bride who walked down the aisle in 2002 with a 776-metre train.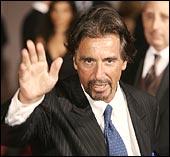 New gal for Al?
Love is in the air for Al Pacino, who is rumoured to be romancing Charmed actress Rose McGowan.
Pacino, 65, reportedly wooed McGowan, 21, after a date at a Los Angeles restaurant, Mortons.
'She thought he was too old for her at first, but Al won her over,' US Weekly magazine quoted an insider as saying.