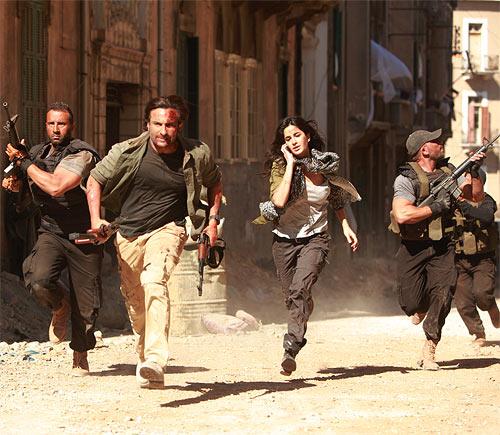 From Beirut, Saif Ali Khan and Katrina Kaif have shifted to a beautiful little town called Malerkotla in Punjab, to film Phantom, a counter-terrorism movie. The film is being directed by Kabir Khan.

Katrina spends all her time off from shooting working on her Urdu and Hindi diction.

Says a source close to the actress, "This is Katrina's chance to go to the next level in her career, and the first thing she wants to do is improve her Hindi and Urdu. Her spoken Indian languages are currently functional.
She now wants to take her linguistic skills to the next stage."
Katrina also had to learn Arabic for her role in
Phantom
.
Director Kabir Khan explains: "Her character is Indian but work-related activities take her character to the Middle East, where she has to converse in fluent Arabic. She had to not only speak her Arabic lines, she had to also sound authentic."
Both Katrina and Saif spend a lot of time speaking in Hindi and Urdu with their director. Apparently, the anglicized pair wants to stop 'thinking' in the English language.
Phantom
is slated to release on October 2, along with Katrina's other film
Bang Bang
, co-starring Hrithik Roshan.