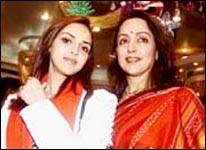 Hema Malini is on a high. Just back from Lucknow after meeting former US President Bill Clinton, she has her hands full, including Ravi Chopra's Babul, for which she is shooting with Amitabh Bachchan, Rani Mukerji and Salman Khan.  
"It's the Baghban team again. Though I don't have that much to do I didn't want to break the successful team," Hema says. "But the news reports that I'm doing a Kannada version of Baghban are baseless. Yes, I was approached. (But) where am I going to do regional films when I'm hardly doing any in Hindi?"  
Hema, who directed Shah Rukh Khan in his first film (Dil Ashna Hai), is all set to return to direction with a film that will star Esha and Rekha.  
"It's a film based on a cultural conflict with classical music in the background," Hema says. "It's a very different story about the relationship that grows between two women from different generations." 
She has already spoken to Rekha. "She is very excited particularly because she has lots of classical singing to enact in the film. Rekha and I go back a long way. She is a good friend. It'll be challenging to direct her. I feel this film will give her a role that does justice to her presence."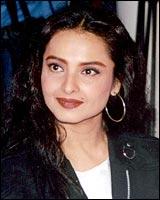 Why Rekha? Why not herself? "Two reasons," says the lady, with characteristic clarity. "I can't direct and act at the same time. Second, audiences will feel cheated since it isn't a mother-daugher film. I want Abhishek Bachchan to play the lead opposite Esha. It's the role of a modern boy with a classical temperament. I can't think of anyone but Abhishek who'll suit the role." 
Hema and Esha will play mother and daughter in a film soon. Details are still to be worked out. "Right now I'm quite charged about directing again, specially since the film will star my daughter. It's been a long time since I directed a film."
The Rekha-Esha starrer, written by Vandana Mukhopadhyay, goes on the floors in the next four months. So does Ram Gopal Varma's Sholay remake. Who does Hema think should play Basanti, her role in Ramesh Sippy's blockbuster?
"None but Esha," comes the prompt reply. "I can't think of anyone else."