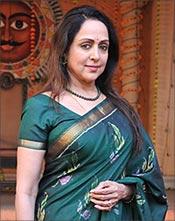 "I never imagined even in my wildest dream that I'd be Dr Hema Malini one day," says the veteran actress who will be conferred upon with a honorary doctorate at the Singhania University in Udaipur.
For the actress, this comes as the second honour as the Norwegian government recently issued a stamp with her picture on it.
"I was surprised when I got a call from the University, saying that they wanted to give me a honorary doctorate. It's only when they told me that the doctorate is given to those whose influence goes beyond their chosen profession that I realised, haan maine bhi kuch kiya (Yes, I've done something too).
"My dancing, for example, has been a prominent extension of my chosen vocation. Today I am ready to embark on the Aurobindo Society's very noble Sarvam campaign as their brand
ambassador.So
yes, I do feel a sense of achievement," the actress said.
Malini will be at the Singhania University in Rajasthan on Thursday to receive the
honour.So
do now we call her Dr Hema Malini?
About the Norwegian stamp, the Dream Girl says, "Who would think I'd have any impact so far away from India? There's a sizeable population of Indians in Norway. I was there recently for the 10th Bollywood Festival. That's when I came to know that a stamp is being issued with my face on it. It's still to sink in. I've never taken myself that seriously."
The picture used on the stamp is from the movie
Baghban
. "Since that's the best film I've done in recent times I am happy," she says.