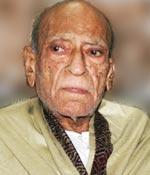 The State Government and the Bollywood have now stepped in to help actor A K Hangal, who is ailing and is unable to pay his medical bills.

Chief Minister Prithviraj Chavan [ Images ] on Thursday night decided to give the veteran actor Rs 51,000 from the Chief Minister's Relief Fund.

Also, prominent film personalities such as Jaya Bachchan and Salman Khan [ Images ] have come forward to help Hangal, film industry sources said.

Amitabh Bachchan [ Images ], who is currently in London [ Images ], wrote on his blog that it was sad and unnerving to learn of Hangal's condition. "I have initiated my office to render immediate support and help," Bachchan wrote. "My prayers and wishes for Hangal Saheb. May he recover soon and without worry and concern of where the next medication is going to come from," wrote Bachchan, who has worked with Hangal in films such as Sholay [ Images ], Guddi and Abhimaan.

Media reports a couple of days ago said that Hangal, 95, was bedridden due to illness, and financially badly off. Dharmesh Tiwari, General secretary of Cine and TV Artistes Association (CINTAA) told PTI that the organisation has provided assistance of Rs one lakh to Hangal in the last three years.

"The help is given as per the request. When Hangalsaab asked for help, we gave it. CINTAA takes care of the needs of several retired artistes," Tiwari said. He said Hangal's latest letter seeking financial aid was received today and CINTAA will take a decision on it in a day or two.