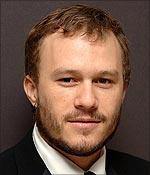 A music video conceived and directed by Heath Ledger has debuted 18 months after the Oscar-winning actor's shocking death at the age of 28.
Ledger, whose marvelous turn as The Joker in Batman: The Dark Knight won him a Golden Globe and an Oscar, conceived the video for Modest Mouse's song King Rat in 2007, reportedly in order to raise awareness about commercial whaling off the coast of his native Australia.
The six-minute video features a blue whale captain out hunting in the choppy sea for, ironically enough, human beings.
The powerfully bizarre clip shows off the same keen sense of black humour that propelled Ledger's The Joker to Academy Award glory. A crew of whales and dolphins are hard at work throughout the video, catching humans from the sea, skinning them and ultimately packaging them as food.
Modest Mouse-frontman Isaac Brock, in an interview, told VH1 how he and Ledger came up with the quirky concept.
'Heath and I have a mutual friend and when we were in Australia, some of us in the band went out on a boat with him and his family and friends and talked about the idea,' he said.
Tragically, Ledger died in January 2008 from an accidental overdose of prescription drugs, while still filming The Imaginarium of Doctor Parnassus.
With the video for Rat King incomplete, the project stalled without Ledger's input. However, soon a company in which Ledger had been a partner emerged to finish the piece in his honour.
The video was released August 4, the same day as Modest Mouse's new album No One's First, And You're Next.
For a full month, proceeds from downloads of the video from the iTunes store reportedly will go to the Sea Shepherd Conservation Society, an international marine wildlife conservation organisation.
The multi-talented Ledger had earlier directed music videos for Australian hip-hop artist N'fa and the late singer-songwriter Nick Drake.