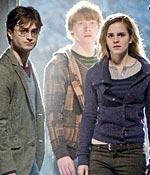 Harry Potter cast his spell on audiences this weekend, opening to packed houses in multiplexes and single-screen theatres, across cities in the country. Harry Potter [ Images ] and the Deathly Hallows: Part 1, which grossed around Rs 16 crore in the first three days, pipped Sanjay Leela Bansali's Guzaarish which collected Rs 14.5 crore during the period.

"Harry Potter has a dedicated fan following, which has grown over the years. Initially, the Harry Potter films drew in children. However, now people from all age groups are tuning in to the Pottermania," said Jayendra Banerji, vice-president, Satyam [ Get Quote ] Cineplexes. Satyam, which is running 18 shows of Harry Potter in Delhi [ Images ] clocked occupancies of 70 percent, compared to the 45 percent it recorded for Hrithik [ Images ] Roshan-Aishwariya Rai Bachchan-starrer, Guzaarish.

Sunil Punjabi, chief executive officer, Cinemax added, "Guzaarish has been more of a metro phenomenon till now. But the movie is gaining on word-of-mouth publicity. Harry Potter is among the most popular film franchisees. For instance, in Hyderabad, where we are running the movie in Telugu, 75 percent of our tickets were sold out for Harry Potter on Thursday itself. The movie is doing well in all places."

"Guzaarish received a lukewarm response on the opening day, which dropped sales. The movie picked up on Sunday, with the film being appreciated by audiences, it should do better in the coming weekend," said Prakhar Joshi, head of Programming, PVR Cinemas.
What is interesting is that while UTV Motion Pictures has release 950 prints of Guzaarish in the domestic market, Harry Potter has done better business with just 531 prints having been distributed in the country.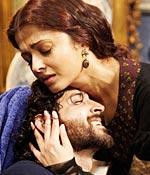 Komal Nahata, film trade analyst, said, "The average realisation per print for Harry Potter would definitely be higher than that for Guzaarish. Guzaarish has sectional appeal, it is doing well in urban areas that too at select multiplexes. Today, the occupancy for Guzaarish has already dropped to 30 percent. It is unlikely that producers and distributors will recover costs."
According to industry sources, Guzaarish has been produced on a budget of Rs 50 crore, while an additional Rs 10 crore has been pooled in for marketing the movie.
A spokesperson from UTV Software Communications [ Get Quote ], informed the movie had made Rs 22 crore over the weekend. The figures are at variance with the BoxOffice estimates of around Rs 15 crore for the weekend.