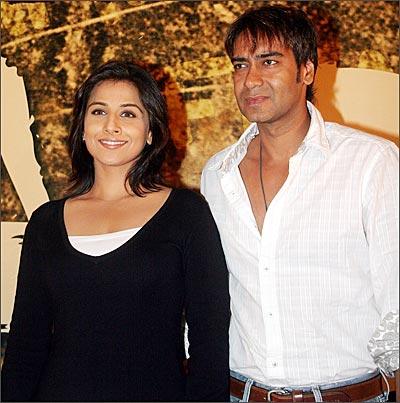 The Jessica Lal murder case has caught the attention of director Raj Kumar Santoshi, who has made films like The Legend of Bhagat Singh and Khakee. His latest film, Halla Bol, starring Ajay Devgan and Vidya Balan, is about this incident.
Santoshi highlights this case which rocked the nation for seven years. Jessica was murdered in 1999 while serving at a bar in New Delhi by Manu Sharma, son of an influential political leader.
Jessica's family never got justice and they ran from from pillar to post. Seven years later, the media and social activists intervened and the case was reopened.
The court finally convicted Manu and sent him to prison for life, thus bringing justice to the family.
Halla Bol has been in the making for quite a long time and did not find any takers until Chennai-based company, Pyaramid Saimira group, intervened and acquired the film recently.
Halla Bol releases on December 21, along with Aamir Khan's Taare Zameen Par and Anees Bazmee's Welcome.
Photograph: Pradeep Bandekar