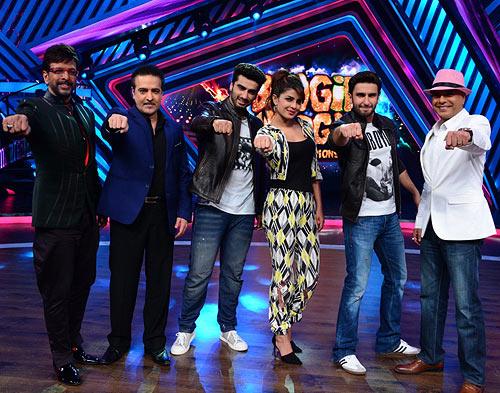 Ranveer Singh, Arjun Kapoor and Priyanka Chopra promote their film Gunday on Boogie Woogie this weekend.

Ranveer Singh, Arjun Kapoor and Priyanka Chopra were in for a surprise when they visited the sets of Boogie Woogie to promote their new film Gunday.

They were made to watch a three-minute spoof on their film, called Gwaley.

The spoof features Boogie Woogie
contestants Aryan, Sagar and Preetjyot.
When the actors saw the spoof, they were in splits.
Ranveer even picked up his chair in his fit of laughter.
They congratulated the creative team for their ingenuity and asked for a copy of the video.
Watch the spoof of
Gunday
on
Boogie Woogie
on Saturday, February 15, at 8:30 pm on Sony Entertainment Television
In the picture: Arjun Kapoor, Priyanka Chopra and Ranveer Singh along with Boogie Woogie judges Jaaved Jafferi, Ravei Behl and Naved Jafferi.