When Balaji Telefilms' producer Ekta Kapoor announced, with great fanfare, the return of the original bahu Smriti Irani to one of television's most popular soaps, Kyunki Saas Bhi Kabhi Bahu Thi, it could only lead to the exit of Gautami Kapoor, who had gamely stepped into Smriti's role of Tulsi.
But the actress is far from worried. She tells Rajul Hegde why.
What was your first reaction when you heard of Smriti's return?
It came as no surprise to me. I always knew that she would come back. When I was offered her role, it was understood that it was going to be for a short time, maybe a month. But one month stretched to 11.
If you knew this, why did you take it up?
For two reasons. Firstly, I have worked with Balaji Telefilms for a long time and took a break only when I had my baby. This was a substantial offer, so I couldn't refuse.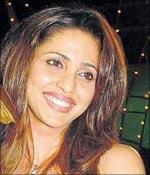 Secondly, Tulsi is an iconic character. It was challenging for me to portray a character that is 70-years old. Besides, I wanted to know whether people would accept me in this new avatar.
What is the viewers' response?
I got an overwhelming response from my fans. After the news broke that Smriti was coming back, I got calls from people here and abroad wanting to know if I was going to be out of the show.
How long are you going to be on this show?
Honestly, I am still a part of Kyunki. My character may be there for two-three months or even a year. I don't want audiences to jump to conclusions.
If you are offered a role of Bani of Kasamh Se, will you accept it?
It is just media speculation. As I said, I am still a part of Kyunki. Besides, I am getting many offers from other production houses too.
Ekta said that she may announce something major for you next month.
Ekta is gracious enough to say that. She must have said it on the spur of the moment.
How has your life changed after Kyunki?
I am committed to my show. Kyunki has changed my life. This will be my biggest character role. People will know me as Tulsi.
Who are you closest to on Kyunki?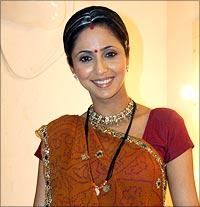 I am comfortable will everyone on the sets.That said, I am very close to Baa (Sudha Shivpuri) because I shoot more scenes with her. I am close with Gauri Pradhan (Nandini), Hiten Tejwani (Karan) and Riva Babbar (Damini) too.
Your husband's (Ram Kapoor) track was introduced but it didn't last for long. Any comments?
I feel he did a fantastic job. It was a shock for the audience to see him in a negative role. His character and his attire was something weird, which the audience did not accept. Viewers had seen Ram in a romantic in Ghar Ek Mandir and expected the same here.
How are your relations with Smriti?
I have no personal relations with her. Both of us are thorough professionals. She has worked with my husband and I even met her at the Balaji Global Television Awards.
Ekta could not stop praising you at the press conference...
I am truly honoured by this. I have worked really hard to portray Tulsi and I am happy that she appreciated my work. I am also thankful to all viewers who supported me.