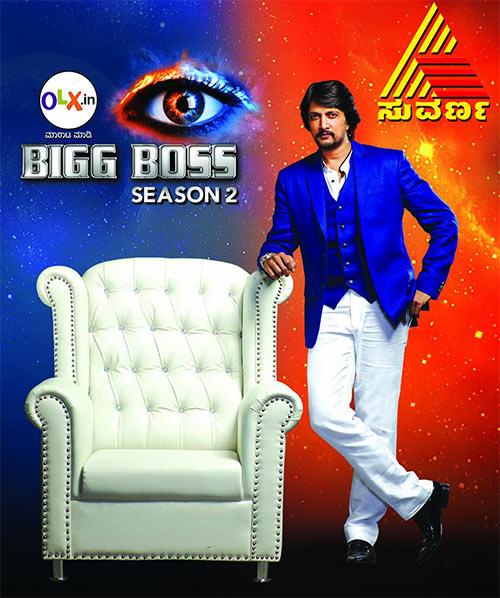 Popular reality show Bigg Boss is back on Kannada television.

The second season of the show starts today, June 29, on the Suvarna channel.

Popular Kannada actor-director Sudeep will continue as the host.

Bigg Boss 2 will have 14 contestants -- TV and film stars and other professional fields -- competing for the top prize of Rs 50 lakh if they last on the show for 99 days.

The names of the contestants have been kept under wraps and will be known on June 29 as per the format of the show.

Scheduled to air daily through the week, the show will have eviction nominations opening on Monday.

The sets have been erected in Lonavala, near Mumbai, and about 45 to 50 cameras have been kept inside the house to record the goings-on. About 2,000 technicians will work around the clock to put the show together.

"Bigg Boss has a strong base among the youth and Sudeep fits the bill as the anchor for the show," Sudhindra Bharadwaj, programming head of Suvarna channel, said.

An excited Suddep says, "I am amazed at the kind of response that this show has been getting. The first season was unprecedented and even surpassed the buzz that my movies generate. I have been getting letters, e-mails, tweets and messages on my social networking sites from fans eager to know about the contestants.

"I must say though that I have no role or say in deciding the contestants or their nominations."
The Kannada Bigg Boss will premiere at 8pm on June 29 on the Suvarna channel.