Last week, viewers were surprised to see Gauhar Khan and her new choreographer Himanshu voted out of Jhalak Dikhhla Jaa. In the face off round, Parul Chauhan, who had scored the least points among all contestants, bagged the votes of judges Vaibhavi Merchant and Saroj Khan. Gauhar managed only one vote from Juhi Chawla.
But all may not be lost for Gauhar, as she can return to the dance show during the wildcard round, which will take place next week.
So what, according to Gauhar, went wrong with her last performance, especially since she was one of the best dancers on the show? "Nothing went wrong except that the prop [an elastic strap] slipped from Himanshu's hand. He immediately held it back and covered it up perfectly. Actually, it didn't hamper our performance or my expressions. I am proud of him and love him for his effort," she says.
Gauhar isn't sad with the judgement either. "In the face off round, judges felt that Deepak's [Parul's choreographer] choreography was better then ours. I am okay with the result because it's a matter of choice. I don't doubt the judges' judgement," she says.
Does she regret replacing her old choreographer Hanif Hilal with Himanshu, since she was voted out in her first performance with the latter? "Absolutely not," she immediately says. "He is not the one who will learn from someone and teach me. Himanshu is very talented. He has every right to be called a choreographer. He is fabulous, hardworking and we have a great chemistry. We discuss the concept but it's more of his hard work. I don't have to rack my brains like before. I must admit that he is a better choreographer than Hanif."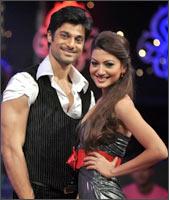 But isn't Hanif having the last laugh? "I don't think he will do that," she says. "If he is laughing at me, he should wait and watch out for me in the wildcard round. I have definitely reached the next level and we have performed an item never tried before in Indian dance. I want everyone to watch out for me in the wildcard round. We have already performed for that, and I am really excited about it. But I cannot talk about it now."
She continues, "All three judges are my favourites. Saroj Khan has been my inspiration since childhood. I always look forward to Vaibhavi Merchant's comments. I always try to impress her because she looks at the smallest details and the hard work behind it. Juhi Chawla has been very supportive and understands my point of view. She was really helpful in getting another choreographer for me."