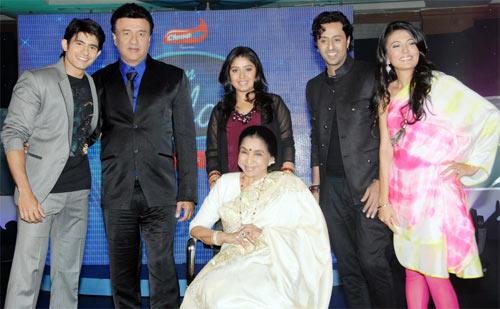 The legendary Asha Bhosle will join the three judges -- Anu Malik, Salim Merchant and Sunidhi Chauhan -- on Indian Idol 6.

Bhosle has been a part of musical reality shows earlier as a guest judge; now Indian Idol 6 will see her as the 'super judge' of the show.
The veteran singer will not be part of the audition rounds but she will join the three judges from the gala rounds.
So how will she judge the contestants on the show? "The first thing I will look for in a contestant is their
sur (melody)
because that's the most important part of singing
,
" Bhosle says. "I don't like singers, who are not been trained properly.
"It is very important for singers to have a classical training, as it helps them sing the right notes. If the foundation of a building is strong, it stands tall forever. Similarly, classical training sets the base for good singing," she said.
The judges claim their focus will be on finding a soulful and contemporary voice, rather than good looks.
"Our focus is the voice quality," Anu Malik says. "We are looking for someone who has a unique voice, something that is their own."
Salim Merchant adds: "I don`t think we will watch the performances keeping in mind good looks. The standard of this season is much higher than the previous ones."
Singer Sunidhi Chauhan, who got married recently, says, "The hunt for the right voice was difficult. But it was interesting to see how the contestants had come with full preparation for their auditions."
Malik, Chauhan and Merchant have travelled across 21 cities auditioning people and picking up the right talent among thousands of aspirants.
Apart from travelling across the country, the channel officials have also conducted video auditions for aspiring singers, who due to some circumstances could not make it to the auditions in person.


Mini Mathur and Hussain Kuwajerwala will host the show, when it goes on air on June 1 on Sony Entertainment Television.
In the picture: Hussain Kuwajerwala, Anu Malik, Sunidhi Chauhan, Salim Merchant and Mini Mathur. Seated: Asha Bhosle